Remember Nuffnang's Flash Mob event that happened 2 weeks ago?
Last week, we carried on to our next "destination" – the Singapore River Festival!
Thanks to SRF peeps and Boss Ming for this opportunity!
At Clarke Quay's new Park Hotel before transport arrived to take us to the Asian Civilization Museum displaying Steve McCurry's photography works~
(something about his name makes me think of yummy mac nuggets with curry sauce..)
I didn't take any photos inside the museum even though there were many astounding works to be admired because I have an absolutely crap camera that I didn't wish to take out of my bag la. Would do his works no justice.
Anyway, you can view his works at http://www.stevemccurry.com/
After a long walk around the museum viewing exhibits from photography to some Kangxi Emperor era thingy.. (to be honest wasn't paying attention, ancient chinese history just doesn't interest me)
We settled down on some cute red mats spread out on the grass, waiting for the launch of Singapore River Festival to begin.
Looks comfortable.. but the short and prickly grass was poking our asses and legs like little red ants all over


Boss Ming and his band of female SG Nuffnang bloggers!
.
.
.
Besides SG bloggers, we were accompanied by a few bloggers from Malaysia..
Such as Kenny Sia!
One of the few good blogs I actually take time to read besides Wendy's~
Waiting for everything to start.. I like the light displays that were projected on the museum, too bad I didn't get a good picture of it.
The dress code for the launch event was supposedly "Cocktail" which Wendy was completely clueless about, she just came dressed in her "PJs" for the PJ Party afterwards, LOL.
Luckily Hui Wen came to her rescue with a dress for her to change into!
Q & A time..

Which of the following is most likely to be inside this portabloo?
1) A pile of poo poo
2) Dirty old man wanking
3) Singapore's top blogger
.
.
.
.
.
.
.
.
.
.
.
LOL.
That's right, expect the unexpected.
.
.
..
.
.
..
When we returned to the patch of red on the grass, the launch was finaaalllyyy starting.
To my absolute delight they served us drinks and really yummy finger food
The great thing about bite-sized food portions is that they're just the right size to handle easily and put into your mouth so you don't look like a pig eating them.
But then people like me will still end up looking like a pig anyway cos they're so small I have to take like 10 portions of them to be satisfied.
Apparently it only takes a stranger 5 minutes to discover my gluttony because after their 3rd or 4th round, nobody was taking food from the waiters serving them anymore and
they headed straight for me as though I am supposed to relieve their burden!
.
.
.
.
.
We were treated to more sights & sounds..
Honestly I thought the whole thing was quite special and intriguing even though I'm not an artsy fartsy person, but the weather made the whole thing almost impossible to enjoy it fully.
All I remember is trying to fan myself profusely.
But they had dancers in "bubbles" across the Singapore River…
I tried taking a photo of the display and ended up with horrifying specks all over.
Shitty cams don't deserve cleaning!
Just for laughs, decided to compare the same picture taken by Kenny :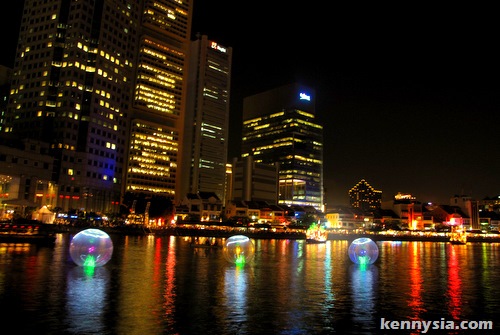 picture credits: www.kennysia.com
Isn't it beautiful?
Random pic of me and Wendy while waiting for I-forgot-what
Random pic of me and Esther
My favourite part of the night – The boat ride across the Singapore River!
I must admit I've never looked at our city's nightlife / skyline that way before. Not even when I was in the Singapore Flyer looking down at everything.
Something about her music made the ride even more strangely romantic
I thought it was so good that I am so going back for the same boat ride with my partner in the near future!
With our red heart-shaped Nuffnang stress balls! aka "invitation" for PJ Party @ Arena…
Everyone snapping away at the beautiful city lights
Random slack picture. Totally enjoying the scenery!!!
Group picture!!
Unfortunately the ride across Singapore River ended sooner than I hoped… and we found ourselves at Arena!
Thanks to them…
I went home 80% deaf that night.
The music wasn't that bad but it was ABSOLUTELY DEAFENING. I was screaming into Fidelis' ear most of the time.
Oh ya did I mention I met up with Fidel baby thereeee! Misssssed her soooooo much.
Loves (hate that word, super lian-ish but it describes how I feel)
Random spastic shots~
I love how my nose looks from the side but hate how it looks from the front!
After chilling for awhile..
We hit the dance floor!
I can't dance to save my life, but just for the fun of it anyway.
Valerie's cool and hip mummy! Fidel looks cute in the background.
And OMG LOOK AT AWFUL BLACK ROOTS.. never knew they were so obvious until I saw this photo!

Am going for a dye job soon, but the question is – what colour?!
Am thinking of chestnut brown or a lighter ashy shade or deep deep purple!
I know purple sounds crazy but I am SO tempted! Think it would only look good with longer hair.
Ok wtf is with all this hair talk… back to pictures
LOL look at Valerie! She was totally into it and I like the way the girl dances.. so much natural movement while I was kinda like tapping my feet hahaha
Wasn't long before I got abit too excited and started tripping all over Fidelis and went abit crazy, like this
.
.
.
.
.
.
I wasn't the only crazy one that night though!
In fact, in comparison, I was extremely "normal" and my leopard print night slip holds no candle to this babe's hot pink satin nightie..
SEXY OVERLOAD!!!!
Who might be this sex kitten be?
.
.
.
.
.
.
LOLLLLLL.

Yep, very well done Kenny!
No wonder he wouldn't let us open the plastic bag containing his PJs earlier on~
I couldn't stop laughing at how ridiculous and cute he looked. Definitely the star of the night, you sure know how to make your entrance for a party!

Other party pics..
Bunch of Nuffies you'll love!!! They are all such nice and friendly people.
Special thanks to the two babes who accompanied me to wait for my taxi.. hate getting stalked by random creepy cheekopeks.
Why do I always attract middle eastern men / indians / you know?! WHY?!?????
Me and Eugene! Infamous for chasing me like madddd for my Hannah Montana advertorials.. hahah

More trigger happy moments before I left :
Me and Kenny back in his normal outfit
Kenny, me, Ming and Su Ann
One last Group picture!
.
.
.
.
.
.
.
And that's the end of my Singapore River Festival night out with bloggers!

Certainly quite a unique experience.
xoxo,
Jess