"Ehh…. he looks quite small sized leh. And not really as cute as his display picture lor!! And what is he doing carrying that fierce helmet that looks way too big for his tiny-looking head?"
.
.
.
*pats James on the shoulder*

…"Hi! I'm Jessica."

It sounds like three very simple words that I should have gottenn used to saying all my life already, but I was literally stuttering. He turns his head to look at me.
.
.
.
.
…He gives me this blur, confused look, and I was nevervously wondering if he was asking himself why this "Jessica" turned out to be such a freak!!!
Then, to my relief, he stretches out his hand to shake mine gently but firmly, and said, "Hi, nice to meet you, I'm James."




~~~HEHEHEHE soooooo funny plzzz. It sounds so formal and awkward, right?
Well, I really shan't waste too much time elaborating on our conversation and what happened exactly and all that jazz, so here's a summarized version:
He asked me if I've had lunch. I say yes, then he suggests to go for a movie instead. So we did! Took the escalator up and he bought the tickets.
Guess what movie we watched? … …. ….
.
.
.
.
.
The Break Up.





LOL I KNOWWWWWWWWWW, the irony is killing me!!! What a start. It's really funny, how things turned out to be.



Quite a weird movie to watch with somebody you've met for less than an hour.





Nevertheless, the tension eased and I realized this guy appreciates good humour. I started to have "hao gan" towards him, if you know what I mean! Man, I am really asking for it lor. I'm always falling in love so easily and so quickly! Somebody save me.
..To be very very very frank with you, I don't quite remember what happened after buying the tickets, la. =P
It is like 1 year and 9 months ago lor!
The only thing I remember is the main detail – we went to watch The Break Up and after that, we had dinner – at KFC!!!!

Stupid stupid stupid Jessica. Don't you ever know that you should NEVER choose KFC or McDonalds for first dates?!?? Sheesh!
Imagine what a pig you'd look like. And it is certainly not a pretty sight to let your date watch you opening your big mouth to devour that messy burger lor and stuff multiply fries into your greedy mouth at the same time. Nobody eats one fry at a time (If you do, you're retarded)
In the end, I settled for Cheese Fries (I was FREAKING HUNGRY but I had no choice! It was the least messy) and he chose to eat a 2 pc chicken meal (its okay for him to be a lil messy la, he's a guy ma.)
The whole time during the meal, we were chatting heartily and laughing away. I felt so comfortable with this guy that I'm only meeting for the first time in my life.
I was telling him all about how I am in the "Emo" mode ever since I broke up with Cliff, and he was telling me about his motorbike and hobbies yada yada…
::: I could now tell, as I was furiously poking my cheese fries with my plastic fork,
that he was seriously checking me out. OMG OMG OMG HE'S CHECKING ME OUT, observing every little detail, DON'T FREAK, JESSICA!!!! ::::
.
.
.
He asked me if I did any sport, to which I replied, "I can't even run properly. My friends say that when I run, I look like a poor duck"


~~~
I remember we were shamelessly flirting away in front of everybody! LOL. Cannot stand him, I KNEW IT! HE IS a lady killer.



It only took him a movie and a dinner to make my cheeks get hot when I think about him, and get butterflies in my stomach whenever his eyes caught mine.
I asked him, "Hey you think I should cut my hair or not? I think my hair very ugly leh."

And that IDIOT replied me, "Don't cut!!! Your hair is very nice already, really."
…..WHAT A LIAR!!!! My hair was super ugly at that time lor. It was freakishly thin, like those fugly ah lian thin and straight hairstyles that make them look like retarded recovering cancer patients.
But then again, I also can't expect him to go like, "Ya lor, really very ugly. Cut la" =P
SOOOOOOOOOOO….
After the dinner, he sent me home! ….ON HIS BIKE!!! HAHAHAHAHAHA.
It was my first time sitting on a bike, and I was so embarrassed, I tell you! I didn't know how to get onto the bloody motorbike even though he tried to teach me.
So in the end, he had to "CARRY ME" up and place me onto the bike. Kinda like in the movies where the men carry the ladies up the horses. LOL~~~
And off we goooo! We went home. Believe it or not, I was screaming alot throughout the journey. LOL.
I CAN'T EVEN RIDE BICYCLE LOR!!!! Suddenly put me on this somehwhat-dangerous-looking motorbike which is travelling at 120 with a somewhat-stanger guy riding it, of course I'd have a huge rush of adrenaline!
I kept telling him, "I VERY SCARED LEH!!!!!!!" and kept whining and screaming like a little baby. Hahahaha.
And the fucker replied, "Scared then sit closer to me la… If you still scared, hug me tight tight okie?" And then he bat his eyelids in an attempt to be cute / flirty.
Lucky he has beautiful eyes with amazingly long eyelashes, so he was able to pull that off. =X
…..JI DAN!!!! James Ooi, if you are reading this now don't think that I dunno you were trying to take advantage of XIAO MEI MEI lor! LOL~

I fell for it. I hugged him really tight, and after awhile I felt a little better and started to smile. I was damn happy! You know what was on my mind? I kept smiling to myself like an idiot and smiling to those lao pek peks on their lao kok kok motorbikes on the road, thinking,
"HEY EVERYBODY LOOK AT ME!!! I'm on my way home on a shuai ge's motorbike!! HEHEHEHE."






Yeah, I know. A lil pathetic, a lil naive, but very funny =P
Hey, I was only secondary 2 at that time lor!!! How many fourteen year olds can say that they went on a date with a hot 19 year old guy and rode home on his bike?
It was a big deal to me at that time…..
and still is a big deal, to me, now.
Whenever he went a little faster on the bike, I'd suddenly clutch him a little harder and knowing that I was frightened, he'd stroke my hand and hold it securely. As though to say, "Hey, don't worry, everything's okay, I'm here for you."
At that point when I felt that warm, fuzzy feeling with my hand in his, I knew, there and then, that this is the hand I want to hold forever.
.
.
.
We reached my place and I was sad to leave. I couldn't believe it had only been less than 7 hours since I've met this guy, because as short as it may seem, I felt a strong connection to him as though we've spent much more time together than that.
I tried to sneak a photo of him, but he caught me in the act and covered his face with his hands! Hmpf.
He asked for a hug, and I tried to act shy and said, "Nope! Maybe the next time I see you, hehehe. Byeeeeee!" and then I RAN ALL THE WAY to the lift and my house. LOL. Even though I can't run and I look stupid doing it, I had to, cuz I was seriously late (curfew)
Without even waiting for an answer or turning back to look at him, I left… Just like that!
I felt a little bad and stupid for acting cute like that, it wasn't very polite to "say goodbye" that way during your "first date"
I received an SMS from him, and I thought he would be annoyed or something, but instead, he said……
"Actually…. You don't look like a duck when you run la =)…
"Phew…" I thought. At least he's not angry. Hmmm, wait, there's more to the SMS?
.
.
.
.
….But you run like a chicken."



…..!!!!!!!!!!11111111111111111
WTF WTF LOL OMG.




He drives me absolutely crazy. I couldn't take it anymore, I was smiling to myself like crazy, so on impulse, I took the lift downstairs and ran all the way to his bike, where he was standing beside it wearing his helmet.
I giggled to myself at the sight of him looking so ridiculous wearing that majorly oversized helmet which looks so fierce, yet he's looking at me innocently.
I walked over, and hugged him tight. It's funny to hug someone who's wearing a huge helmet.
Beaming at him and receiving a grin back, this time, I made sure to receive a responsive "Bye!" from him first, before running to the lift like a chicken and going up to my house again.
———————————————–
And that,
was our first date.




…Less than a week later, we met up again. This time, the location was his house.
"Wa, Jessica!!! 2nd time meeting him only and you go his house already?"
But, my dearies, you must understand! We were on the phone and he asked, "Hey, you wanna come over to my place this Saturday?"
And I was really excited but hesitated a little and said, "hmmmmm…"
To my surprise/horror (=P), he said "I take that as a yes, then." He then shouts to his mother, "Mum!!! I'm bringing my girlfriend home on Saturday to meet you."
LOL~~~~ You see now… How could I have said no? Saturday came, and he asked me 5 times before I said yes. Told you he's persistent!!
Yeah, James certainly has his charming ways with ladies.
Btw, remember the part where I said he doesn't look as charming as his photos? Well, the longer I look at him, the more charming, cute and handsome I find him so that's totally not true. =)
.
.
.
I wish I could tell all of you more about what happened next.
It is one amazing story that I am very happy to tell… (even though typing everything is honestly tiring and tedious!)
Our Love is More Than Words.




As time passed, we grew to understand each other, and loved each other. We also had break ups and very ugly quarrels inbetween, yet we've had such amazing memories together that none of you would be able to imagine.
Yes, some say my story sounds like a fairytale – it is very magical to me. He's my first true love!
This is why I say I believe in love at first sight – he made my heart skip a beat the very first time I saw him, and still does now.

.
.
.
Never would I have thought I'd find my first true love from a Random Gunbound Room.
That guy who called me a noob and challenged me on a 1on1 duel yet lost to me, then resorted to asking for my MSN instead.
That guy who kept trying to ask me out all the time, but I kept turning him down instead…
Our story started on 26-08-2006, and I hope I'd never have to write an ending to this.
.
.
.
.
.
.
That was us, then.
This is us, now..

Take my hand and never let it go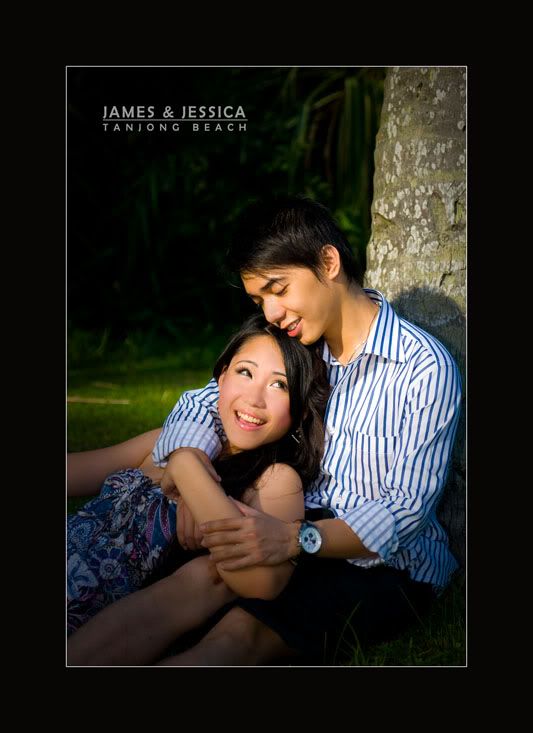 If I could, I'd choose to spend everyday lying in your arms like this
Sunsets never looked this beautiful before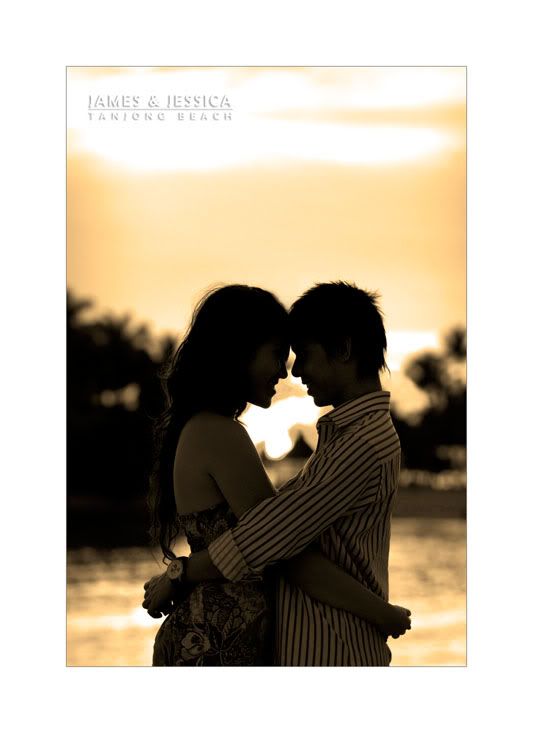 And this is only the beginning of our story, James.
.
.
.
.
.
.
.
.
.
.
…..The rest is still unwritten.