YAYAYAYAYAYAYAYAYYYYY.
I finally finished everything. HAHAHAHAHA.
I was like editing everything for soooo long. Bah! I finally found a skin I kinda like that looks okay.. So I'll use this till I finish a skin of my own creation. It WILL be done! ..Sooner or later. Aren't you excited?
I was like 3/4 done with a skin I intended to use previously, but some people said that it was tooooooo dramatic so forget it. I'm too goddamned lazy anyways.
But I was very dilligent in getting this blog up again! I mean, I usually say say say but don't get around to do anything, but this time I actually got it done. Ohh yea, I'm good. xD
I spent over 60 hours trying to get everything right. Fuck, I didn't even spend that much time on revising for my exams!
Okay, now that I've done everything, I don't feel like blogging. Hahaha. -dies-
I drive myself fucking crazy. I don't know what to blog about, my brain's dead at midnight. So yeah, I'll just talk about my week. Please excuse me if I'm boring.
I didn't do much today, but I slept alot. I got woken up in the morning by a call from James, then he came to my place soon after. He left at 1 for CCA, then he came back at 5 (I think) and he stayed for dinner, till 9+. At the times he weren't present, I was.. sleeping.
And surfing the net for awhile. That was pretty much my day, but I enjoyed it, every moment with him is a moment I treasure.
Ooooh, I ate McDonalds for lunch, and I ate McDonalds a few nights ago at 2AM. I /keep/ eating food HIGH in calories, and I haven't been to the gym in ages. So much for my diet, I'm becoming a pig. I wake up, I eat, I go back to sleep
Instead of losing weight, I'm freaking gaining weight! It's depressing ;_;
I can't recall much of my week. Yeah, I have short term memory. I went to VivoCity twice. OH, I bought this really cute (click to see) Guess bag for only $60!! AAHHH So cheap for a Guess handbag
Then I found this (looks really white in picture because of the flash)jacket I REALLY like as well. Costs $120. Guess what? The bag and jacket matches!!
Aww. I couldn't decide whether to buy it or not. James was like, "You won't have anywhere to wear it to, SG is so hot, blahblahblah." So I didn't buy it.
It took alot to resist the urge okay!! Then we walked away from the shop, he said "Ok la, I know you when you like something alot and you don't buy it, but you run back and buy it will make you very happy, so gogo, I count to three, you want anot?" … BLOODY HELL. Now then say. I was like T_T and walked off.
But I went back the very next day and bought it anyway. Hehehehe.
That reminds me, I'm going to Genting on the 17th (Which I can wear that jacket to!). With my mum and her friends and… JAMES! YES!! I AM SOOOO EXCITED. My mum agreed (I just said he was a normal friend though. :P) I've been to Genting alot of times before, but going with your boyfriend is just a different thing. I haven't been there in awhile anyway.
I can't waitttt. My mum will be with her friends 24/7, so I have alot of time with him alone! I'll blog about it when I get back
One bad thing, he was supposed to book his birthday chalet on 17, 18 and 19. But that's the date we're in Genting =( I felt sooo bad that he had to cancel it, but he said "It would be meaningless to celebrate without you."
Aww, so sweet, how can dun love him?! xP Oh yea, I also have a BBQ to attend on the 17th. Geez, talk about wrong dates.
Hmmm, about the rest of my week, I watched The Prestige, The Guardian and Dead Or Alive. The Prestige was really.. different. Slightly confusing though. I'm not sure if it's good or not, but it was okay. Dead Or Alive, HOT GIRLS! It wasn't bad too.
OH OH, The Guardian was sooo good, it's one of my favourite movies already. You shouldn't miss it! BTW, does anyone know the song that's played at the end of the movie? I really want it. Ashton Kutcher is such a cutie.
I'm going to watch The Covenant with James tomorrow. It seems really interesting :}
So on Monday I went for some guy's wedding dinner at Harbourfront. Hahahah okay not some guy, but I think he's my grandmother's brother's son. Not that I even know who he is or seen him before la. I wore a short black dress. My mum INSISTED that I buy a scarf, she was convinced I'd freeze to death in the ballroom. So I bought a pink scarf and a pearl brooch before we went up. When we got there, it seemed like I was the only teen around. I walked to our table, before I even got to sit down, all these uncles and aunties started coming up to me saying things like, "Wa! So big already! So pretty now, last time blahblahblah.. Remember me?"
I'm like. No? WTF, so scary to be attacked by unknown old people, a group of them crowding around you. Up till now, I have no idea who they were. I /think/ they are my.. Distant relatives. *cough*
Typically, it wasn't cold (At least, not cold enough to make me feel COLD. I've got thick skin ;D) Thanks Mum, spending $40 on a brooch and scarf which is not of use now and which I probably won't ever use again.
But it wasn't so bad, I got to eat Sharks Fin and other nice food. It feels good to be part of someone's wedding, after all, it's that one special day of their lifetime. I can't wait to get married! It seems like such a blissful thing. I would Never get married in a hotel or restaurant, I would get married next to a sparkling lake, on a vast greenland on a sunny day with cool weather, birds singing, flowers blooming..
Fwah!
Small girl, big dreams. James said that sounds great anyway. Ahaha.
On Wednesday I went to Tampines Mall with Jasmine, I was wearing a pair of hells that made my feet hurt ALOT.
Oww, I could hardly walk in them. We bought tickets for DOA, then we went to the playground and sat there, chit-chatting, and doing stuff we used to do last year. We kicked off our heels, and we raced each other up the slides. She took a video of me climbing up the slide, I looked like a monkey! But it's too ugly to be shown here. :3 I must have looked ridiculous because I was wearing a dress.
I missed those days we spent wasting time doing really dumb but hilariously fun stuff.. Things aren't and won't be the same anymore, but I won't forget the memories. Blink of an eye, 2 years has passed. I remember thinking, at the end of last year, "I'll study hard next year, I don't want sucky results again." Now, at the near-end of 2006, I think the same. But 2007 will be a new year, a new beginning, and who knows what awaits me and you?
I dare not think.
After awhile, we left the playground and went into Toys-R-US playing with some kiddy stuff. Sooo cute, the place. Then.. Jasmine realised she had lost our tickets.
In a frenzy, she searched her bag, and threw a pile of paper into the bin. I was like, "Maybe the tickets are in that pile, did you check?" She: No.
Great! Neither of us dared to pick it up from the disgusting bin, so I ran after a cleaner (in heels! x_x) (he was a distance away, walking) asking for help.
Cleaner: What is it you have lost?
Us: Tickets, movie tickets.
He then showed us magic by reaching into his pockets and in his hands we saw our tickets. We screamed. xD
How lucky! He claimed to have picked it up on the floor.
After the movie, we sat outside a cafe and saw this man picking up thrown-away drinks from the bin and drinking it.
Ewww. Gross
He didn't even look THAT poor. Jasmine went off, and I went to Leon's house. I haven't seen him and his family in foreverrr! Leon who? Let me explain..
Leon is the son of my mother's old mahjong friend. We went to Genting (Yea, Genting again :3) together like 4 years back. I've lost contact with him since, till january this year. I met him online, then we started chatting.. And I realised the guy I was talking to was an old friend. I totally freaked
Yeah, I seem to have many coincidences in my life. Aha. I reached his house and had dinner with his family, they were really nice. I played with his lil sister Jana, she's only 9 this year. Still as cute as before! After dinner, we went to the playground, (LOL uhm playground again) and we just spent some time there together. It was getting late so I bade farewell and went home.
Alrighty.. I'm too tired to blog about the other days, It a really long entry already. It's nice to blog again. If you want me to link you, tell me in MSN or leave a message in my tagboard so I know you were here.
Much love,
Jess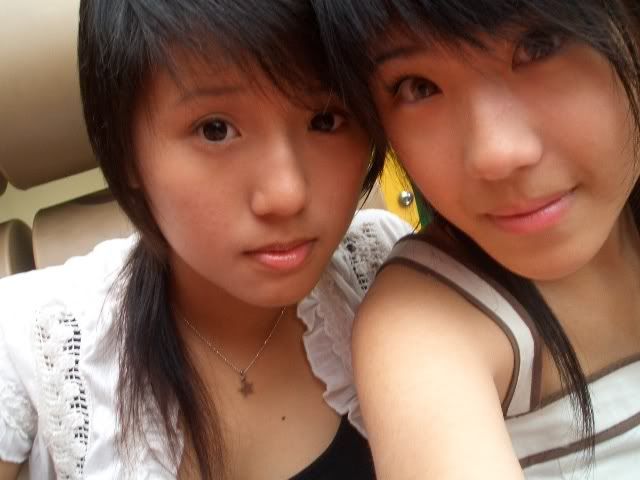 You're a bitch But I love you anyway