FEAST YOUR EYES ON EYE CANDY FOR THIS POST!
Ah poh woke me up earlyyyyy in the morning (ok not that early, 11plus) to ask if I was going to the CLEO's Great Swimsuit Shoot with her.
The girl was so excited about it, how can I refuse? ALMOST reluctantly, I agreed. Lazed around even though I was running late.
Reporting time: 1: 30pm
Time I left the house: 1pm
…. So yeah. Had to cab all the way down to Sentosa!!!! 20++
I hate taking cabs despite the comfort, they are such a RIP-OFF.
Ok anyways we thought we were gonna be really late cuz we ended up reaching at 2+ but girls were still registering and chilling out!
We walked a blooooody long way to Siloso Beach... They were situated at the other end -____-
Upon arrival, we saw alot of stuff going on – fake tattoo air brush spraying, tug-of-war, blahblahblah…
However, me and Jasmine are definitely NOT beach / outdoor girls. In fact, I think it's mad people enjoy outdoor sports in Singapore.
DO YOU ENJOY MELTING?!?!
We retreated to the nearest cafe – where we attracted a lot of stares. We weren't even in bikinis then!
I hate being stared at. I mean, I know it's ironic because if I don't like people looking at me, why should I dress up in the first place?
The thing is, it's okay when people look and smile or something, but it's damn annoying when they give you those cold stares or when they screen you from top to toe.
Recently I've given random strangers the middle finger alot. I MUST LEARN TO IGNORE!
.
.
.
So it was at that random cafe that me and Jas met the Butt Cheeks crew.
Hahaha, although the guys were really cheesy at first, it was all in the name of fun! I LOVE CHEESINESS.
They made the day a whole lot more awesome. I love random fun people. LOL
I thought the girls were the bitchy type at first, but they turned out to be real darlings.
I made alot of new friends that day! Happy happy. This is really rare for me, since I'm usually pretty unsociable and emo. The world hates me =(
.
.
.
I HATE THE SCORCHING HOT WEATHER IN SINGAPORE!
Me and my accomplice aka lover aka bitch aka ah poh, JASMINE! Check out the melting expression, people. Need I say more?
.
.
.
Even though I hate all that, I am always game for something new.
Like I said before, it's always really fun to be part of something crazy, and who's to tell me that 420 bikini girls on the beach under the sweltering weather taking a photoshoot to break national records is NOT fun and crazy?!
Jess: AH POH!!!! I am very grumpy. I am melting!!!
Jasmine: ….Then what to do? -_- Don't so grumpy leh, act as though you are enjoying!
I think we make good actors.
My hair was covering my boobs all day. Kinda defeats the purpose of wearing a bikini =P
I'm shy shyyy w0rxzxz.ssd
Jess: Grrrr! HOT!!!!
Jasmine: ACT HAPPY, remember?!?
My little poh poh looking unusually sad =(
After some time we had to put away the camera cuz the CLEO team were busy trying to make us do lame stuff like Kallang Wave etc etc. LOL.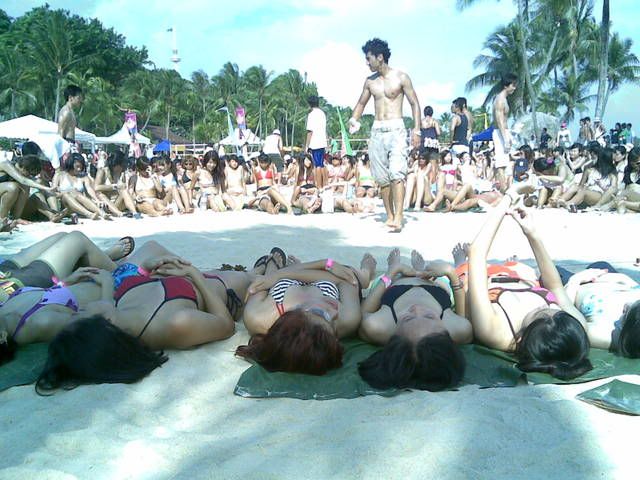 We were forming the letter "O" of C.L.E.O!
To the left, I see boobs…
To the right, I see more boobs…
And I saw a LOT of photographers!!! Chikopeh alert!
Bumped into familiar faces there.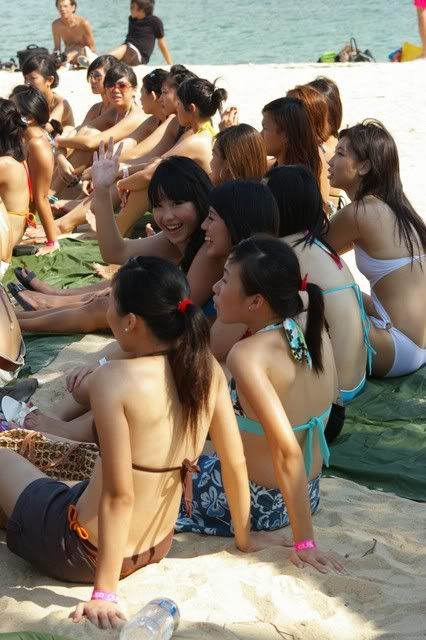 Reached home and I received this photo. HAHAHAHA.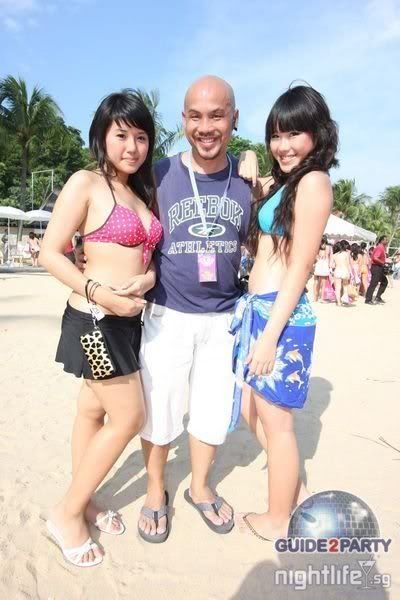 VINZZZZZ.
My favourite cute botak photographer. Hehehehe.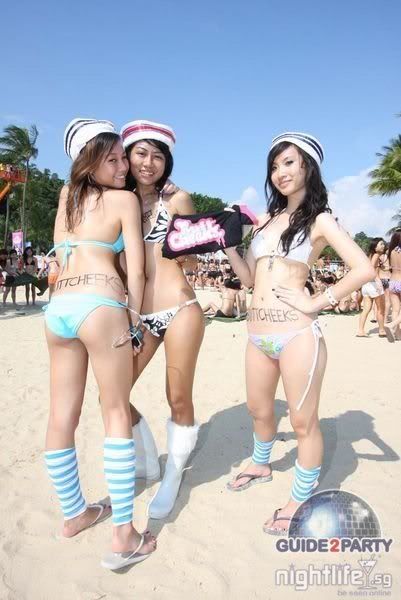 My sexy BUTTCHEEKS bitches,
Nicole, Angelline and Charmaine ("v")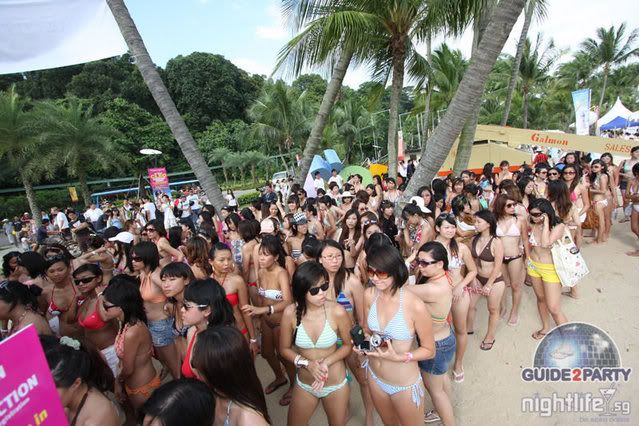 Super long queue for the goodie bag! Anyway, there were alot of random stuff inside the goodie bag la.
Cornflakes, granola bars, nail polish, hair cream, vouchers, sanitary pads?! LOL. Girl's essentials?!?
And of course,
what's an event without taking lots and lots of photos?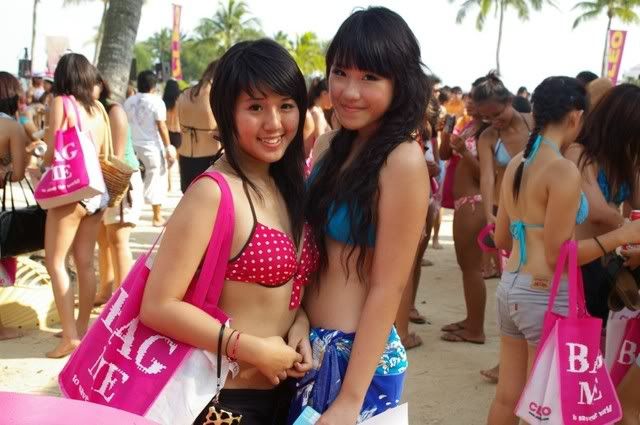 Me and darling!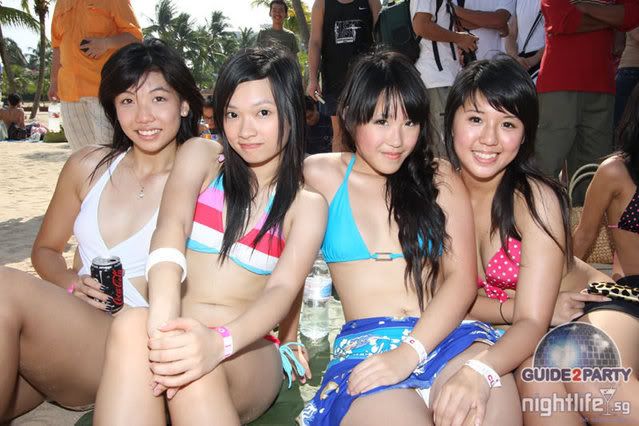 I don't even know those 2 girls on the left. LOL.

I remember posing for TONS of photos but alot of them were random photographers. Only managed to get a few from googling the event.
I bet most of them are masturbating to the photos at home.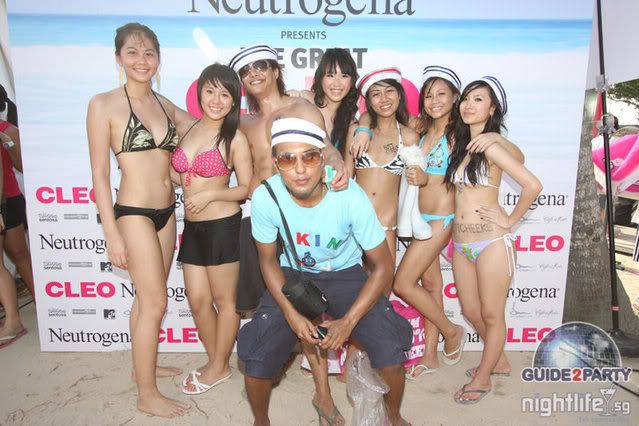 Again, I don't know the girl on the left.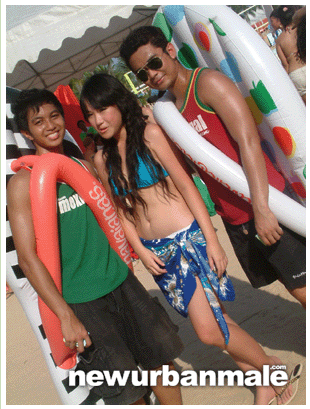 Found this on NewUrbanMale's website. Candid shot. HAHAHA!!! Stupid face.
EH, Jessica, why are you looking soooo glum to stand inbetween two cute guys?!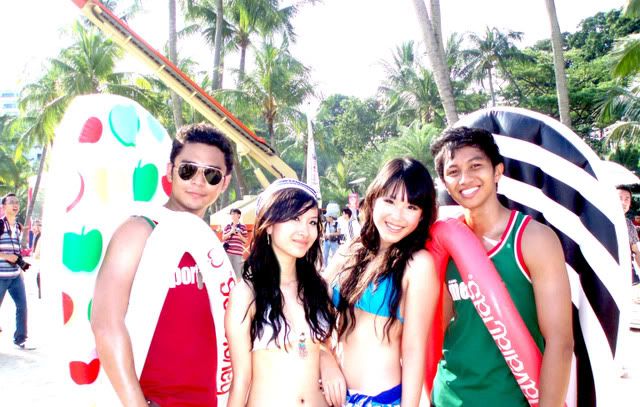 ..There. Much better.
.
.
.
.
After the CLEO shoot and mingling around ended, me & crew drove to
Cafe Del Mar to have drinks..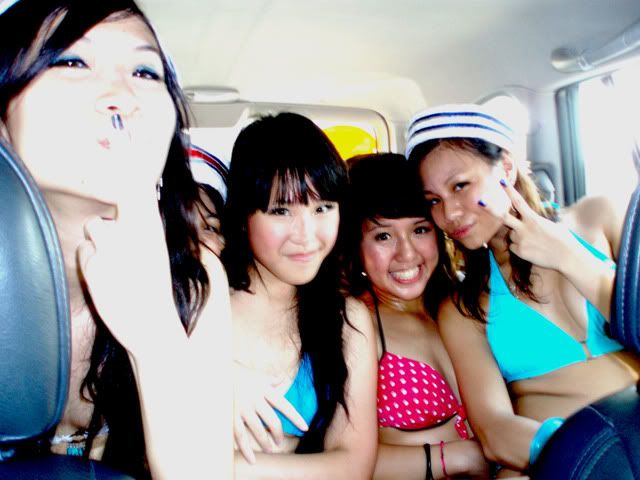 Bikini babes going crazy at the back of the car. I swear, the boys in front almost came in their pants, HAHAHA.
I like the whole concept of beds on the beach and bar beside the pool @ Cafe Del Mar, but seriously, the whole place is so poorly-maintaned it's not even impressive.
The bedsheets seemed as though they were only washed once a month!!! GROSS.
Do you know their water costs like,
SEVEN fucking dollars?!?!
Madness right!!!! I think like that their Coke is $14 lor.
I was like, "Must be some holy diamond water from the gods that lets you regain your beauty & youth, etc etc"
But I still enjoyed having drinks and lying down on a freaking bed on the beach while staring at the clouds in the sky…. Wonderful feeling no doubt.

HORRIBLE MUSIC THOUGH.
.
.
.
Sweethearts who were there with us~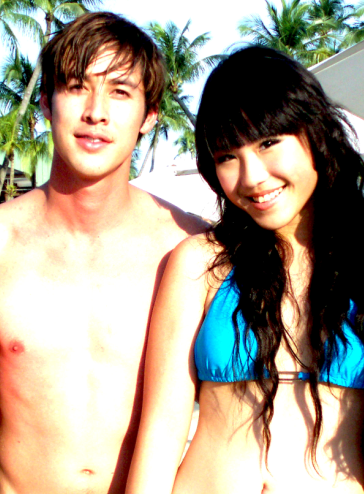 My angmoh-looking-asian heart throb.
.
.
.
.
.
Yummilicious man whore. LOL!
UTT! He's a real darling
I think I nearly died of a heart attack when he put his hand on my waist, hehehe.
By his flirty gestures, I would ALMOST have imagined he thought I was pretty cute…. except for the fact I was told he's "not into girls" (rumour has it)
BAH. All hot / good men are either taken or gay! =(
Nevermind, doesn't change the fact he's still totally a M.I.L.F and I love him to bits. LOL
Estelleee darling!
Niraaa baby!
See what I told you about girls with long hair covering their boobs?
Ahoy maties!
I know it's an unflattering angle, but I don't really care.
——————
I forgot what we did that made time pass so fast.
But before we knew it, night fell and it was time to go home!
Really enjoyed my day, I WANNA GO BACK TO SENTOSA AGAIN!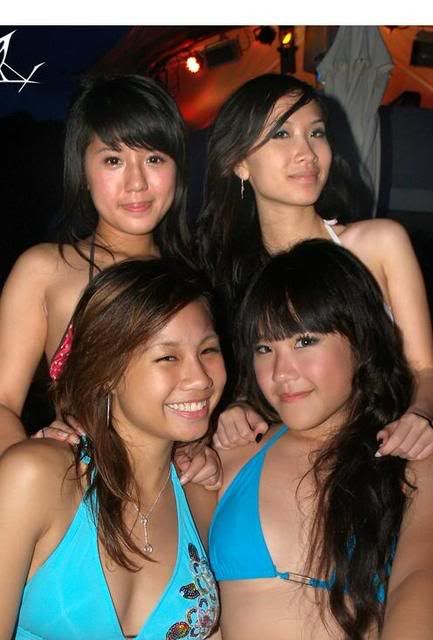 Seemingly normal.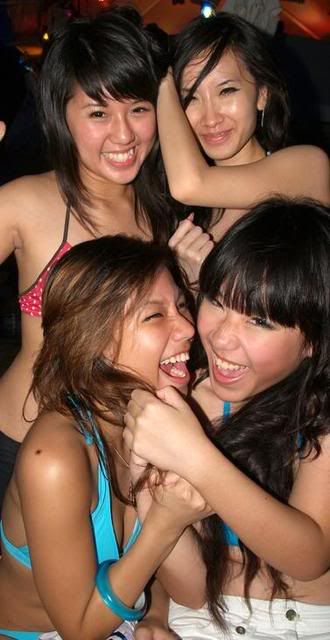 …But actually hair-pulling bitches! LOL.
Gonna have my dinner now.
See you lovers soon!!!!
xoxo,
Jessica