I'll have you back soon-ish!
xoxo,
Jess
xoxo,
Jess
Yesterday, Ming called me and told me about this really cool blogger event that Nuffnang has planned and I'm super hyped about it!
I was informed that
several other bloggers and myself were chosen to participate in this Flash Mob event
– basically,
we're all coming together to make a
Flash Mob @ Orchard Road
happen!!
No idea what a Flash Mob is?
Check this video out:
Flash Mob is like a whole group of people given a mission, appearing at some place together doing something absolutely crazy and fun!
For example, the mission for the flash mob in the vid above was to freeze in time at a crowded place. (Grand Central, New York)
Seeing the reactions of the passersby = PRICELESS.
Don't you wish you were there to witness it?
.
.
.
Well, now you can be part of
Singapore's First Blogger Flash Mob!
Me and 4 other bloggers will be rallying our readers and friends to FOLLOW US for Singapore's First Blogger Flash Mob event @ Orchard Road.
WHERE? : The Heeren, Orchard Road (gathering point: Field next to Singapore Visitor's Centre)

WHEN? : 13 June 2009, Saturday, 5pm

WHAT? : Top bloggers and their readers / friends dressed in Pyjamas, gathering for Singapore's First Blogger Flash Mob! (that's right, you heard me.. PJs in Orchard Road!!!)

MISSION? : Everyone will suddenly start dancing in their PJs together at a given time!
WHY? : For the fun of it man!! To do something unexpected, spontaneous, fun and crazy once in awhile. To be part of a major event that many people will be blogging and talking about. To see and meet many famous bloggers in real life.
To be part of Singapore's First Blogger Flash Mob!
.
.
.
.
.
**************HOW? : To join in the fun, click here to go to the website!!
Search for Underage-Girl and click on
"FOLLOW THIS BLOGGER"..**************
And tadah! You're automatically added to the number of followers I have for my flash mob team!
.
.
.
.
.
.
.
I know PJS in Orchard sounds crazy, but that's the whole point of it. The crazier, the better the look on passersby faces!!
Some of you might know about Nuffnang's blogging contest called Do Singaporeans Dress Badly?
One of the questions were What are your comments about people wearing their PJs (Pyjamas) out?
Well I've read some entries and some people said that cute PJs are fine, but most of them strongly disagreed! They said it would only attract attention.. and attract attention we will!!!!
It doesn't matter if you can't dance, neither can I. We can all look and feel like goofballs together, afterall this is something we're going to remember for a long time and laugh about when we look back on it.
It doesn't matter if you don't know what to wear – wear sexy lingerie if you want, or wear your old tattered and torn PJs! Just anything you'd wear to sleep would be fine – no one there is going to judge you anyway.
Don't worry about looking silly, there will be so many of us wearing PJs, the people in normal attire would feel out of place
I think everybody should be allowed to wear whatever the hell they want and still have lots of fun without worrying too much about what they look like!
.
.
.

Everybody's been complaining that life in Singapore is "boring", so let's all do something crazy for a change.
There will be professional photographers and videographers there to record the event and goodie bags will be given to attendees, yipee!
*****************************

Followers would receive:
I. Nuffnang Goodie Bag II. A surprise tour with celebrity bloggers III. A Blogger party to be revealed
And out of all attendees, 3 will stand a chance to win a pairs of GV Gold Class Ticket each!
*****************************
.
.
.
For once, you guys won't have to read about MY life in MY blog and feel like it has nothing to do with you. You could be there with me, and when you read about the Flash Mob event when it's over, you may even see YOUR face in my post
There are 4 other bloggers in this contest, but you should follow ME if you love me! (you know you do)
Can't wait!!!!
Even if you're not sure whether you can / want to go, just register and follow me first so I know the rough number of people that's gonna appear that day.
What are you waiting for? Don't hesitate, be spontaneous and
*****click here to FOLLOW UNDERAGE-GIRL!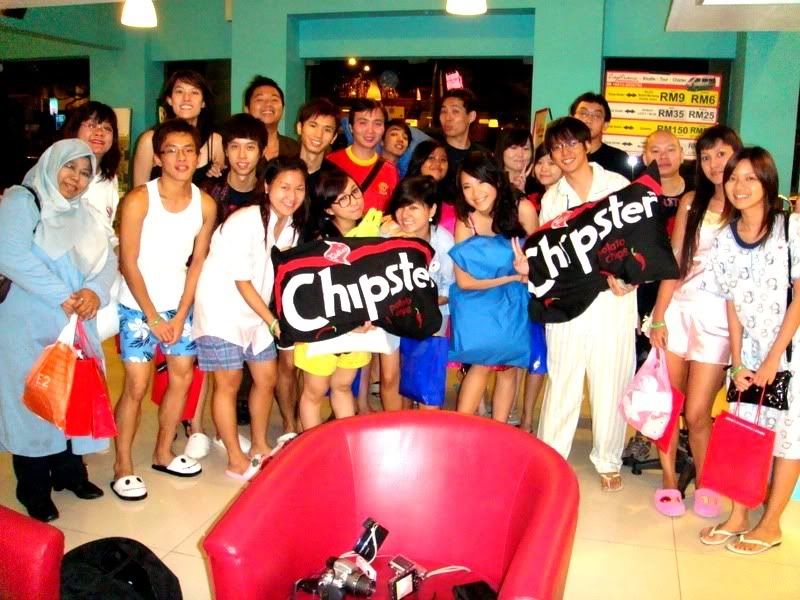 This picture brings back nostalgic memories of last year's Nuffnang PJ Party. FUN TIMES!!!
See you guys there, loveeeeeeeee!
xoxo,
Jess
xoxo,
Jess
You'd be surprised how the stuff your horoscope says about you is true.
Virgos are rational, practical, intelligent people who are able to think clearly thanks to the ruler of their Earth sign, Mercury.
If you ever decide to question a Virgo, make sure you know your stuff because it will be hard to convince them they are wrong.
A Virgo's thought is so precise that they are not very tolerant of other people's procrastination or lack of common sense. They simply cannot understand why other people cannot function at the same level as they do.
Because Virgos have such clear thought, they may be critical of others. They are perfectionists who despise carelessness and incoherence in others.
However, as critical as they are of others, they usually turn that criticism inwards on themselves. They dislike being criticised by others because they already know their own faults.
Most Virgos have an intensity that makes them both industrious and efficient. Sticklers for detail, they are very organised. They are also hard workers as they are driven to do, not daydream.
They are weary of making decisions until they know all the facts. Virgos are shy by nature and function better in one-on-one situations rather than in large social gatherings.
To the world, Virgos appear calm and collected, but underneath that, they have a great intensity that demands they bring order to their worlds. Beneath the calm exterior is a frantic interior that needs to rearrange until everything is perfect.
Whether it is balancing a checkbook to the penny or measuring something five times until they are sure it is precise, Virgos are perfectionists. This works well with their analytical thinking and practicality.
Virgos are cautious in most of their endeavors. They like to examine all variables before making decisions, and they are slow to trust because they don't like to be vulnerable.
Because of this, Virgos don't fall in love easily and they are very choosy about their mates and friends. They are drawn to people through intellectual curiosity rather than shallow physical attraction or passion.
Virgos need intellectual stimulation, and will quickly grow bored in the company of those who make small talk rather than speaking of serious, important things.
xoxo,
Jess
xoxo,
Jess