Celebrated one day earlier on 19th September with the people who make school life less torturous..

MY AWESOME SCHOOL MATES!!!!
They came over and they bought like 7 packets of my fav cheese cracker. LOL? Totally random but totally appreciated. Of course I finished the crackers within a jiffy!
Basically the whole day we were playing Wii, sitting and chilling, went swimming, playing truth or dare and the usual fun stuff we got up to.
Like slacking on the bed and squashing each other like sardines in a pack. Like 8 people all squeezed onto my ONE bed!!!!
I'm veryyyy tired cos I just came back from one great Family Day… Totally awesome but thats for another post next time!
Won't elaborate much, let the pictures do the talking~~
I love the golden sun rays in this picture
Makes everything seem so warm and lovely.
Cuteeeeeeeeeeeeeeee aren't they?!?
I know I'm the only one "skimpy dressed" -___-
But thats cuz they've all got their swimwear underneath their clothes. LOL. I was lazy to cover up.
Thank you to these adorable people for the fun I had that day!
HAHAHA I super love my condo's set up and environment
Look at our background! Looks like we're at some sort of "nature-ish" resort… MAN, LIKE PULAU BESAR!!!! (minus the mosquitoes)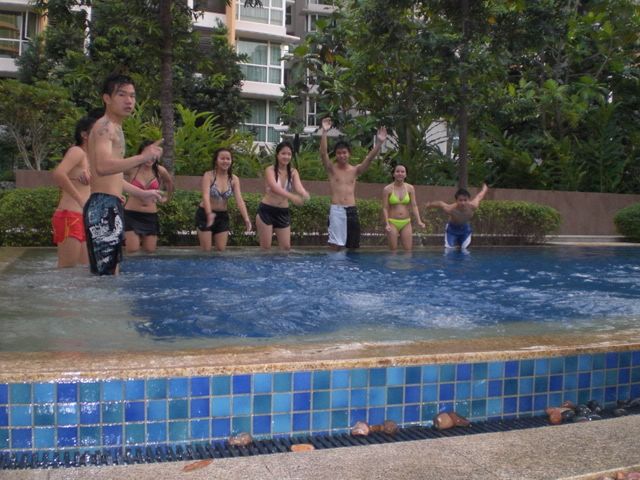 Everybody get ready to JUMP!!!!
And make a big splash =))))))))
Hehehehe it's so cute how everyone disappears underwater..
The other time I went swimming with Fidelis, her make up stayed on right through!!!!
Cos it was waterproof.
I wanted to try it out myself so I applied light make up and went inside the pool… To my dismay, everything was washed away and I was bare faced once again =(
(besides the smudges!!!)
So much for waterproof make up. Stupid sales girl cheated my money T____T
So if you'd always been wondering how I'd look like "bare" without the fake eyelashes and all, behold the next few pictures!
And don't say I don't post pictures of myself without make up anymore ah.
Annoying.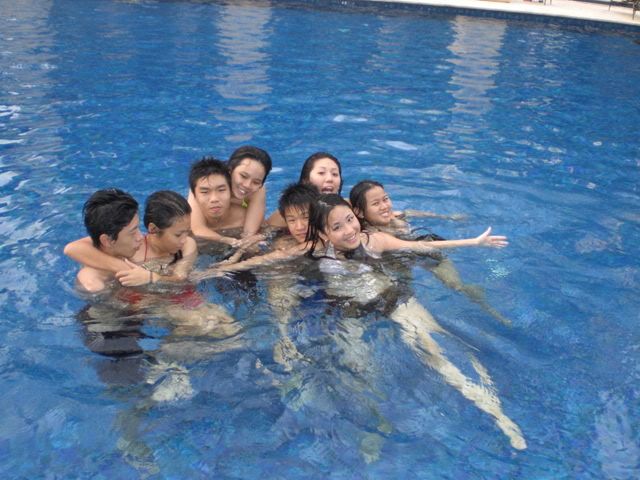 Gosh I love this photo to death. It really makes me smile!
Can you differentiate us? LOL.
I think me and my girls look alike when we're without make up!!!!
(We all look crazy is what I mean lmao)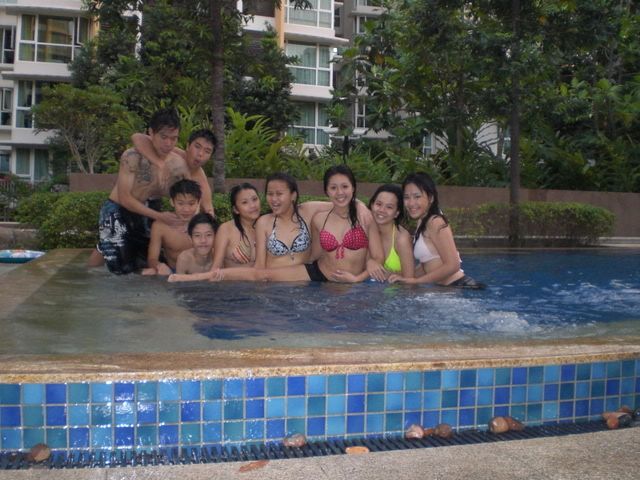 ILU ("v")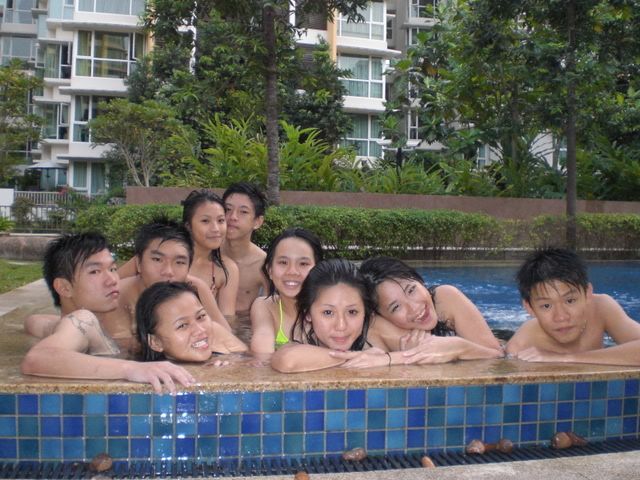 I think everybody looks so cute here. Like so fresh, and so silly looking. As though we're all taking one big bath together. LOL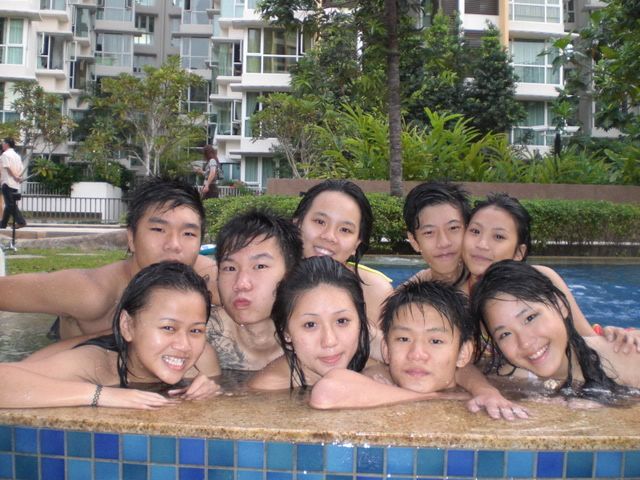 I loveeeeeeeeeeeeeee to play in the water!
And then we left the camera in the bag and had more fun ourselves.. Hahaha I'm not gonna describe it much, some things are better left being personal memories.
When night fell we ran up (super cold cos no towel. LOL) and showeredddd. All the guys showered together in one bathroom and all the girls together in another!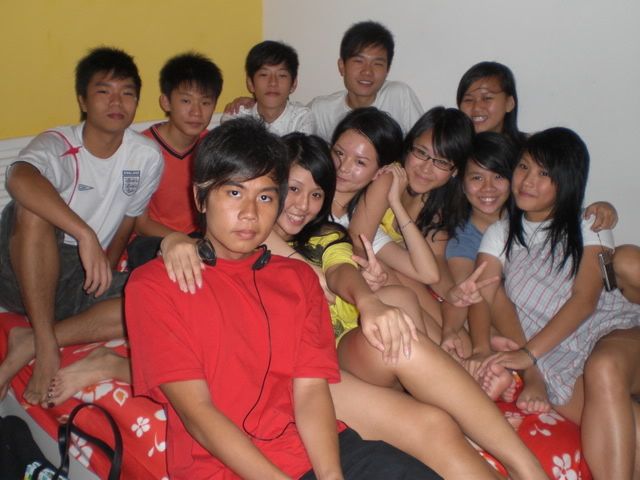 Everyone clean after a refreshing shower!

Duhhhh like SO MANY PEOPLE PACKED ON MY BED.

Even though my room is relatively small, thank god I have a queen sized bed!
And then after that…
We had…

MASS SEX!!!
ORGY!!!!!!!!!!!!111@@@@

HAHAHA no la not really. I just did tortured 2 guys and did what I liked to them.
By the time I was done with them, their cheeks turned bright red..
Cos… I WAS APPLYING MY MAKE UP ONTO THEM!! HAHAHAHAHA.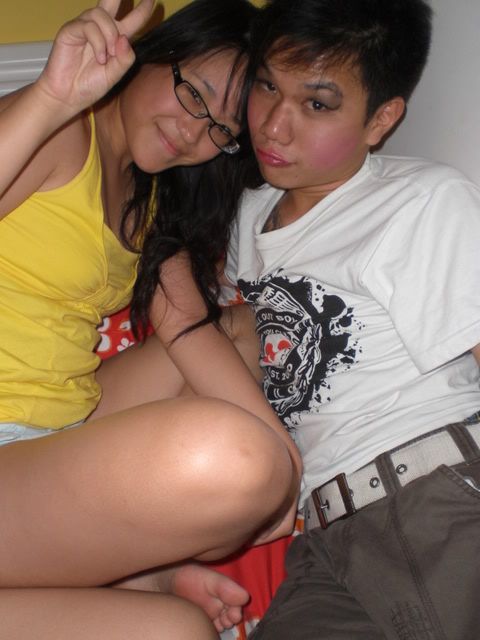 Ian looks sooooooooooo pretty! *pokes*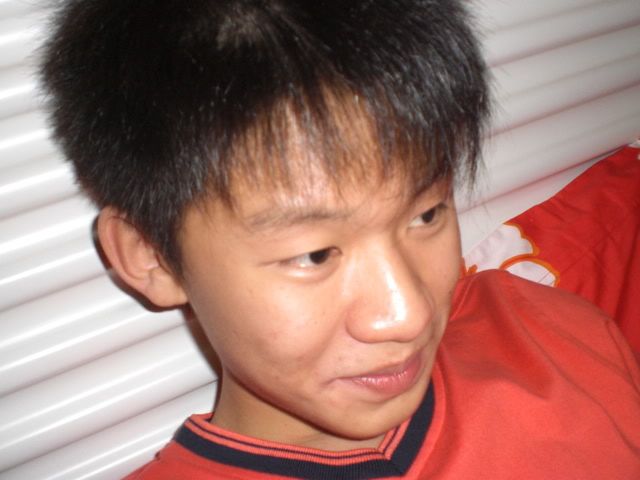 HELLO JONATHAN, my next victim!!! Very reluctant at first but became willing afterwards.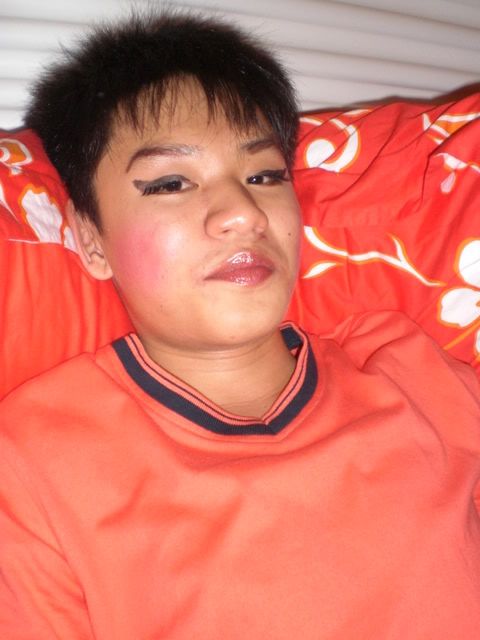 TA-DAH!!! Woooohooo sexy babbyyyyy you make me so horny. LOL~
They were trying to take a saucy picture.. But I stuck my head in.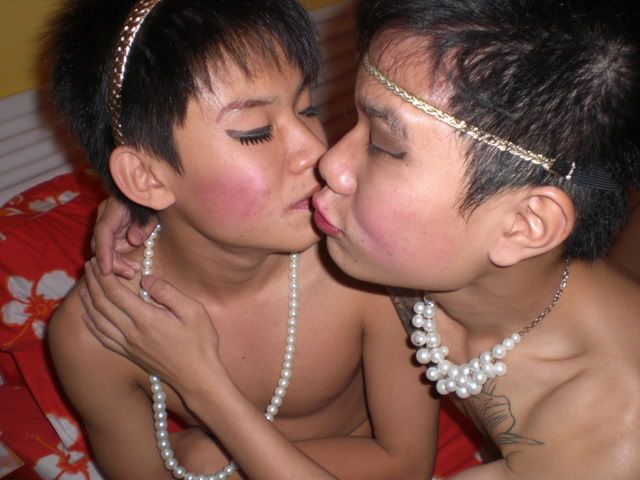 HAHAHAHAAH THIS IS DAMN PRICELESS.
WOOOHOOO!!!!!

I love these guys, they are damn spontaneous, thanks so much for letting the birthday girl to have her fun and draw on your faces. LOL.
Everyone roared with laughter and literally went mad seeing them like that.
.
.
.
After a while, Jonathan couldn't take it and went to wash off allllll the make up I slapped on him….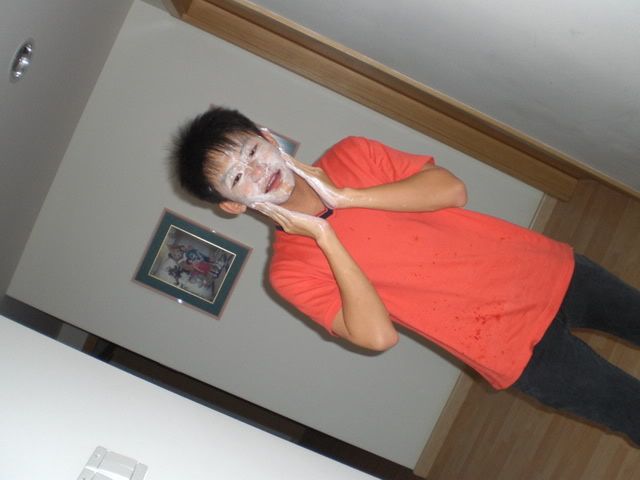 HEHEHEHE now he looks EVEN CUTER!!! Like some adonimabal snowball.
Wait. Or is it abominabal? Wtf? How do you spell it?
We were chilling in the room and it was very funny cos alot of us were tired and wanted to squeeze onto my bed to sleep!
But obviously when you put so many idiots like us all onto one bed, the last thing we'd get is some peace and quiet.
Annoyed each other and did silly things till it was almost 12!!!
TIME TO CUT CAKE.
Ok here's the story – I don't like chocolate stuff. Most birthday cakes are chocolate cakes. So one day I casually told them, "Next time my B'day get me Pandan cake instead of Chocolate ok!"
And……

OMG THEY REALLY DID.
LOLOLOL.

I think this is the first and last time I'd ever cut a Pandan Birthday Cake in my life!!!

But it's soooooooooooo cute la plz. Thankssss LOL. Better than chocolate definitely. (less fattening also!)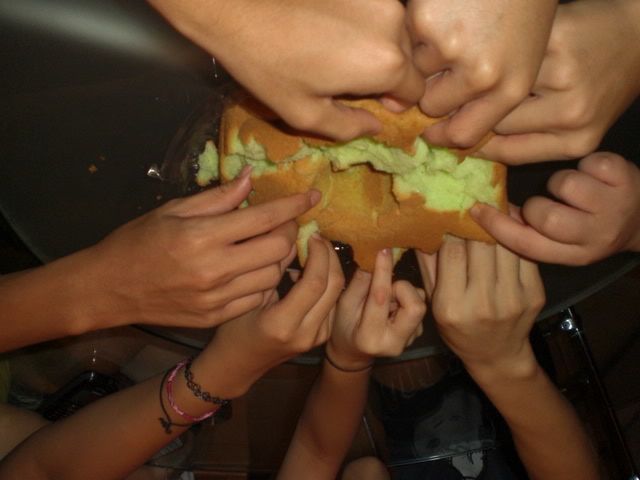 Everyone wanted a piece of my pandan cake…. =(
Horribly devoured. LOL. Looks so sad now!!!!!
After cake session, we proceeded to play Truth Or Dare and the usual.. Some people went home since it was near midnight already, and some more new people came!!!!
They started to drink… But I stayed away from the alcohol.
I HATE ALCOHOL!!!!! (Tiger Beer is the only thing I don't mind to drink once in awhile)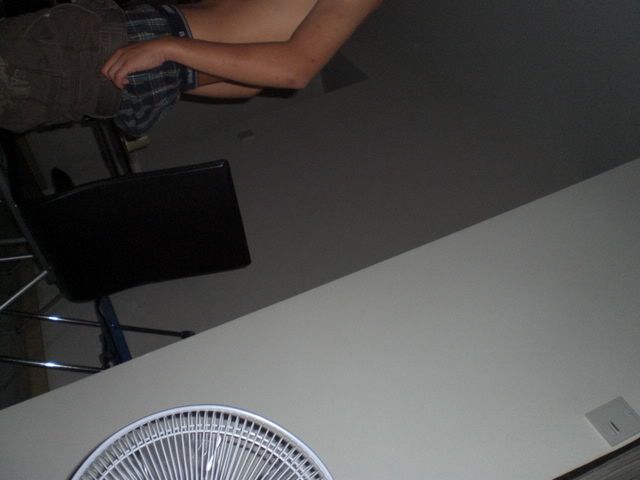 Someone was dared to STRIP and do a SEXY DANCE for us!!! HAHAHA.
Not telling whooooooooooooooooooo.
They dared me to go under the table to take super ugly pictures with my face squashed against the glass surface.
…Too bad, you guys won't get to see those fugly pics. LOL.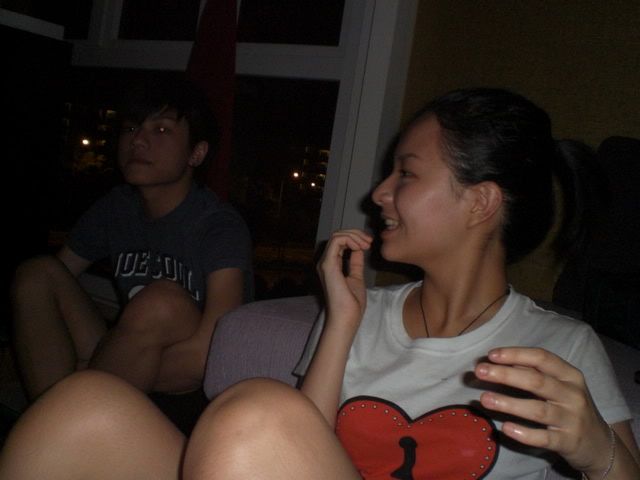 Ber looks so funny in this pic, and Mel looks so happy + cute!!!
I forgot what time they went home, but I knew it was pretty late..
Ber was the last to leave at about 4am I think. LOL. He lives like at the condo next to mine anyway -____-""
Ber and his friend accompanied me all the way until James came over!! THANK YOU, LOL.
And then I hugged James to sleep and that was the end of my day.
Other birthday celebrations pictures next time!! Super tired now, gonna sleep, got shitty school tomorrow.
NIGHT NIGHT EVERYONE!!!