Awww..

JESSICA'S GOT FLOWERS!!!
Three red roses mean I Love You. Just like any other girl, flowers make me very very happy!
B-b-butt…. I don't have three red roses leh. If you haven't already noticed, I have 2 red and 1 pink. *farts*
That's because they're NOT from JAMES! =((((((
Booohoo. I wished. (The last time I received roses from him was the first day of 2008, according to him, "to start a brand new year with love. Not bad ah!)
They are, in fact, from my photographer. Not that my photographer proposed to me la!
It was a flower-themed photoshoot. Felt bored at home, and I cannot get enough of shooting with flowers ever since my last rose shoot (anyone still remembers that?) so I couldn't wait to do it again!
Anyway, flowers are gorgeous but heres what they looked like when we were done with them…
.
.
.
.
poor flowers. violently ripped off their petals! (had to scatter them around for shoot)
.
.
.
.
Heres what I managed to salvage though..

I know, random bunch of flowers that you don't usually see in bouquet together right! Still think they go pretty well together anyway.
Some pretty pink flower, sunflower, white roses lookalike and erm, what do they call it? Babys breath?
Reached Eleganz studio early in the morning (I think) and I thought I was seeing double!
My make up artist has the exact same pair of slippers as me! =D
Fastforward: After hours & hours of shooting…
Heard that Angelline darling was dying of boredom from working so I couldn't resist going down to disturb her abit!

She works at Dior!
If next time I were to look for jobs, I wouldn't mind working at such cosmetics outlets! I love make up alot and it'd be cool if my job was to talk to people about them.
Act busy only for supervisor to see….
.
.
.
.
I also know how. LOL!
I like this photo alot. Don't you think I actually look pretty convincing?
Very cosmetic-sales-girl-appeal! Perhaps I really would try this job out in the future.
.
.
.
And after crapping around, she continued to act busy so she started painting my nails hot pink.. LOL.
Then she started to do my make up..
I was feeling very itchy hand that day so I re-did my make up AGAIN after she was done "playing with my face"
I think my face is extremely tolerant towards products, I did a total of 5 different make up looks for that day yet no sign of pimples or break outs!
I took about 5 minutes to create this look:
Psssttt… Anyone notice anything different about my hairstyle?

I heart this look! Dior has awesome mascara, eyeliner and lipgloss. I'm going back there to get them. I've been searching for this colour of lipgloss for damnest loooong time!
And I think I'm going to STRAIGHTEN MY HAIR!!
Yipeeeeee, I am finally sick of my curls. LOL. I no longer find them uberly hot and luscious, I long for those days when I was able to run a comb through my hair smoothly… =('
Not that my hair is not smooth now la, but combing curly hair is alot more difficult than combing straight hair. I just don't like straight hair cos straight hair is so damn boring and totally lacks volume! (except for shorter tresses)
I mean really, who the heck cares about shine etc when your lack looks like one dead lump of boringness?
But whatever, most likely getting it straightened anyway (soon). I remember the times I used to lust over curls and wondered when I could have them (like in sec 2?) and in a wink of an eye, ta-dah!
Been 1 long year since I've had curly hair. Doesn't feel that long ago… Time passes way too fast. 2008 has been a very very interesting year indeed.
*randomly skips back to the topic of make up*
!!! I spent $500 on make up for the past 7 days. I bought loads of eyeliners, eyeshadows, etc etc… I think I need to start shopping online where things are alot more affordable

Not really sure why I bought so much new make up. Perhaps I'd experiment with them soon and show you guys a creative make up shoot, so stay tuned k! =D
.
.
.
.
*Blah blah blah blah blah, finally, some of the flower shoot photos, most of them are unedited so i'll only post up the ones that look fine without any editing:
Pulling off two very different looks.. First is pure.
Kinda candid! That scarf on my shoulder looks like a sarong =X
Just a test shot, not the actual shoot yet.
I'm not sure which I prefer myself in – thicker make up as you see in camwhore photos above, or really light make up like this? I think I look just fine in both!
First time having pink eyeshadow on. *not much comments about it…
I think this is becoming my signature pose, LOL. The photo on my blogskin is also something like this!
Pretty pink flower!
And I can go from THIS…
.
.
.
.
.
To THIS~
Boo! Gotcha again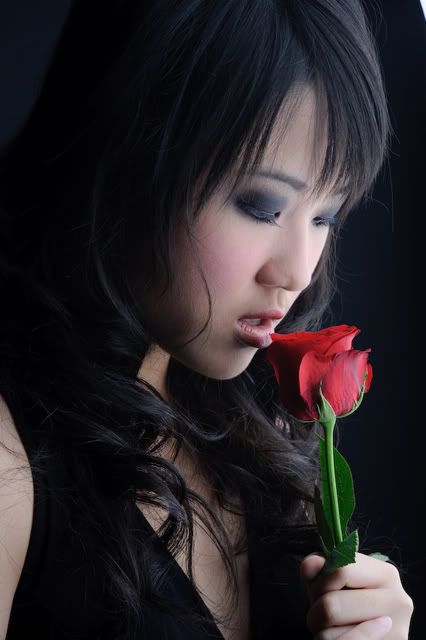 THIS IS MY NEW FAVOURITE PHOTO!

I think there's a dark yet romantic mood to it. The red looks very red yet slightly damaged at the edges, the lighting is soft yet moody, the curls set a romantic mood whereas the make up gives an edgier feeling…
The best part about this photo is that it was almost a complete accident! I was just fooling around near the lights when I had this sudden idea and told the photographer, "Hey, try taking one of me like this!" and TA-DAH!!!
I got this result, which I reallyreallyreally like.
.
.
.
.
The result is great, considering throughout most of the shoot I was doing less constructive things…
AHAHAHAHAA!
.
.
.
.
.
.
.
.
.
.
..
Before I go, one last photo. Jessica welcomes you to the dark side!
I'll post some other photos when I can be arsed to get them edited… Special thanks to Chris for his amazing DI skills!
Till then.
xoxo,
Jess