I think people thought I was mad.. Going to sentosa with that make up, hair and a freaking turtleneck!
But I also I think I'm in loveeeee with Sentosa!
In the past, I NEVER visited the place cuz I thought there was really nothing to do there… But recently, every single time I go there is just tons and tons of fun!
As far as I can remember, the last last last time I went to sentosa was to have a couple photoshoot with James. Unforgettable~
And the last last time I went to sentosa, was for the bachelor's party at beaufort villa. Funnnnnn!
And the LAST time I went to sentosa (yesterday), was for the
…Great Cleo Swimsuit Shoot!
First time I saw soooo many girls clad in bikini... Woot! Eye candy!!
MANY CHIKOPEH PHOTOGRAPHERS AROUND! And I saw that annoying pest camera man roger.
.
.
.
.
Ok la, after seeing so many girls in bikini, I honestly don't think my figure is that bad lor.
Seriously, even the skinniest girls have cellulite and stretch marks and have wobbly asses and thighs!
So that cheered me up alot. HAHAHAHA.
It was really quite an interesting experience, having a "photoshoot" with exactly 419 other bikini girls who were all lying on Siloso Beach.
We set a national record!!!!!
For the largest swimsuit shoot.
Look out for the swimsuit shoot in CLEO's August issue ok~~~
Me and Jasmine and a whole lot of bikini girls would be in there, HAHAHA~

BUTT CHEEKS crew made the day a whole lot more fun!!
All thanks to Aagir (omg I hope I spelt it right), Ian, Nicole, Jasmine, Charmaine, Angelline, and ganggg!
And since I love them so much, do visit Butt Cheeks at The Cathay Building (beside dhoby ghaut) for really pretty bikinis! I've seen their designs, and they're awfully pretty.
Plus, they pad your bikinis according to your measurements! Where else can you get customized bikinis?!
Anywayy… I have like tonsss of photos with a lot of other random people, so I'll update the full post when I get pictures from them!
My last crazy day before school re-opens!
Tomorrow, I'll be back at the House of Horrors.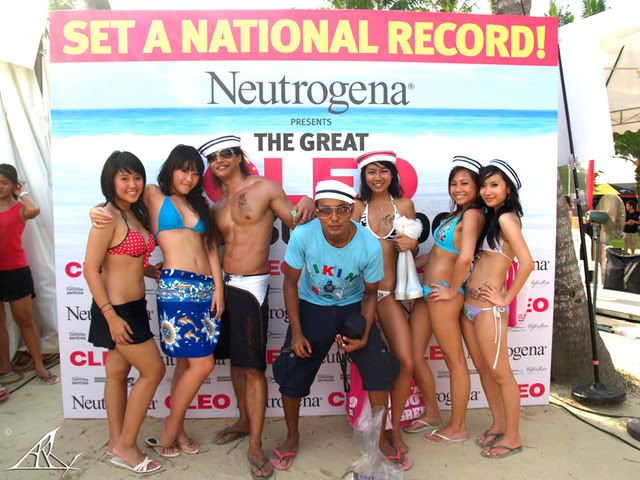 MISS THESE PEOPLE ALREADY!
I know my skirt looks damn long. LOL. I was having my period, so no choice.
.
.
.
Tilllll next time!