OMFG!!!!!!!!!!!!!!!11111
It's CHINESE O LEVELS on 26th May. 3 days away.
Repeat and chant with me:
Dead, dead, dead, dead, dead, dead, dead, dead, dead, dead, dead, dead, dead, dead, dead, dead, dead, dead, dead, dead, dead, dead, dead, dead, dead, dead, dead, dead, dead, dead, dead,
VERY VERY VERY DEAD MEAT!!!
Sheesh. Well, at least its Chinese and not Mathematics.
When MATH o lvls come, That's when I would REALLY freak out.
I hate how you can't really study for chinese though! It's either you're good at it, or you're not. Unless I spend 2 years in China
.
.
.
.
WHATEVER HAPPENED TO THOSE TIMES I LOOKED FORWARD TO EXAMS,
BECAUSE THAT WOULD MEAN NO HOMEWORK
AND HOLIDAYS WOULD BE SOON AFTER
AND I KNEW I WOULD ACE THEM?
Sigh.
Those days are obviously long gone.
I've been reduced to a studies-hating fool who cowers at the thought of sitting in an examination hall facing 6 pages of paper with weird chinese alien letters written on them.
Oh well… Send me your blessings on 26 May anyway, I WILL DEFINITELY NEED IT!
Thank god we can take the chinese paper twice.
I hateeeeeeeeeeeee this. I hate growing up. Sounds childish, doesn't it? But time is passing so freaking fast!!!
.
.
.
.
WHAT IF I GET WRINKLES? Or what if I don't get a good job? Eeeeek.
I like being 16 years old.
I can choose to cuddle up in my super-comfortable-bed with tons of soft toys like STITCH all day and nobody can say anything about me
By the way, today is Sports Carnival Day and I skipped school because Sports Day is lame to me and so here I am, enjoying my relaxing day and blogging.
SEE??!?!?! Next time grow up already where got SPORTS DAY for you to pontang and skip work/school?
I am on the verge of going bonkers.
A part of me wishes that O LVLS will never ever come.
Another part of me wishes that O LVLS will just faster come so that I can get the hell over with it.
ON A BRIGHTER NOTE, tomorrow is my last day of school then it's JUNE HOLIDAYS!!!!!

I predict lots and lots of shopping, movie watching, eating and sleeping. I will study once I enjoy the first half of my june hols
Oh and please, don't bother disgusting me with preachy naggy "STUDY HARD!" comments on my tagboard.
.
.
.
.
MEANWHILE….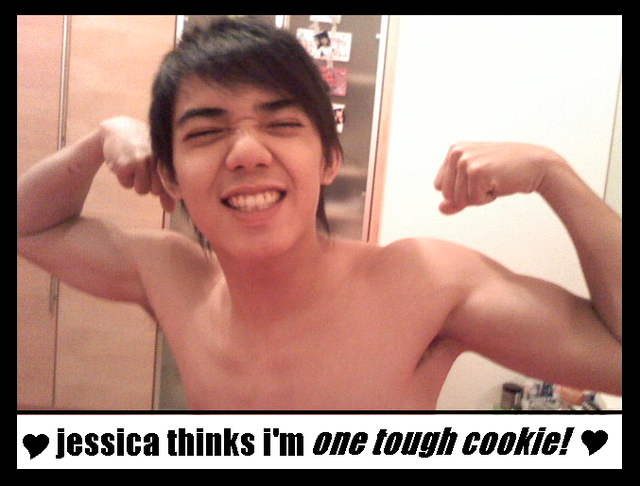 He's the only thing thats keeping me sane.

Even though recently we've been having tons of little fights all the time, he still makes me beam from ear to ear!
I love you, MY LITTLE CHIPMUNK!!! ("v")