I was never really into clubs and organizations, but I soooo love Nuffnang right now!
It's a really fun organization that DOESN'T leave out the "minorities". They're not just ALL about the atas bloggers, they definitely include the rest of Nuffnangers in the fun as well!
YES, you CAN earn money from Nuffnang. It all depends on your viewership and whether you're lucky enough to get advertisers =)
And the co-founders of Nuffnang Company are the CUTEST ever la.
Moving on…
The trip doesn't feel like 2 days only lor~
Feels like it lasted 4 days or so? Probably cuz it was so happening!
LOOOONG bus ride… Sheesh.
Normally I would have hated the bus rides, but I actually enjoyed this one because of the wonderful people on the coach with me! Making even the most boring bus rides fun to travel.
Pretty view from the Causeway~
.
.
.
After like 4 hours… Still driving….
.
.
.
.
.
.
.
.
.
.
.
Resulting in sleeping beauties lor.
Me & Darling who spontaneously agreed to come along with me on this trip. You're the best lover! Yea I know I look awful, LOL. We sleep with spectacles on
zZzzZzz.. Tired boys. That's Scott in the White Nuffnang shirt! Being our leader must be very tiring, look at his face

.
We're like a crazy bunch to handle. He's such a sweeeeetie though x)
I spot a sleeping Jairus! Hehehe. He's a very nice guy, but keeps picking on the fact that my Chinese sucks!!! Hmpf.
I know simple chinese lor…
.
.
.
Wo hen mei.

.
.
.

See?
Valerie, a.k.a Chipster girl! Her mum is superrrrrrrrrrr hip, I've never seen a woman who could get along with youngsters so well before!
WALAO MAN. This picture is unbelievable.
This guy is actually sleeping? Are you kidding me?!?!?!
.
.
I must have been sleeping too, because I sure as hell don't remember this happening lor! The soundtrack of our coach ride was Nik's loud laughter allll the way =P
And Jayden sent me a damn funny photo…
.
.
.
.
.
A very random picture of my FEET sticking out in the middle of the bus!!!
Hahaha I was resting my leg on James so it kinda stuck out. Apparently Nadia took the photo. You all also very bo liao lor, take my feet picture for what! LOL.
Want also take my face ma.

.
.
.
.
.
.
.
After hours & hoursssss of the bumpy, noisy, crazy bus ride….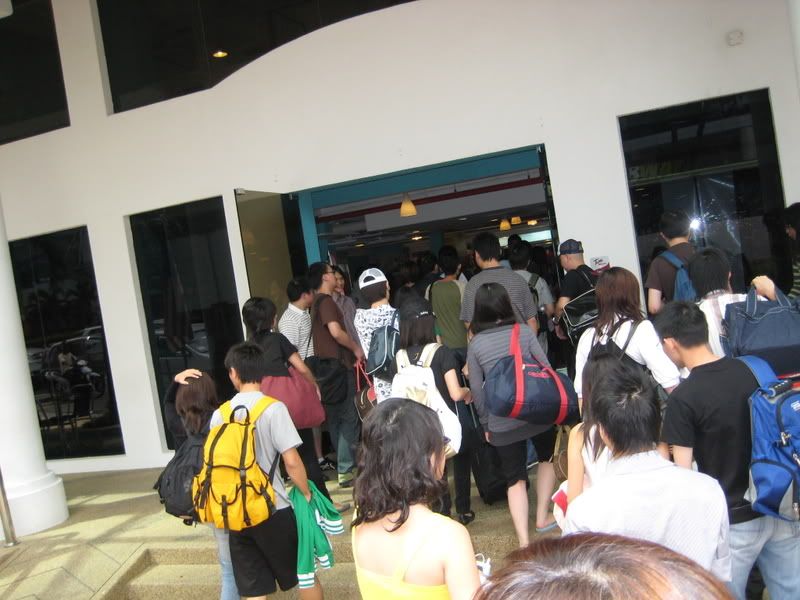 The bloggers arrive at Tune Hotels!
Cute Ming greeted all of us at the doorstep with his adorable smile~
He even made the effort to recognize all the bloggers and remember their names! How humble can this man get? =)
The hotel may not be the best, but it wasn't terrible and it was reasonably clean, so we won't complain. Afterall, it is sponsored by Nuffnang!
.
.
.
The thing I like most about the hotel:

This chio pink mirror!!!
How many hotels have you been to that actually has PINK MIRRORS in the bedroom and toilet?!
I like lor! Something tells me Xiaxue must be damn thrilled also..
Because:
It lights up at night, turning into an awesomely pretty neon pink light!




It is very fun to wake up in the middle of the night to pink neon bedroom lights ok… LOL. A very nice princessy feeling indeed.
—————————————————
After arriving @ the hotel, we wasted no time to get ready for the party.
There wasn't a minute we sat around idly during the trip – it was always, Chop chop! Go there do that NOW NOW NOW.

We washed up, changed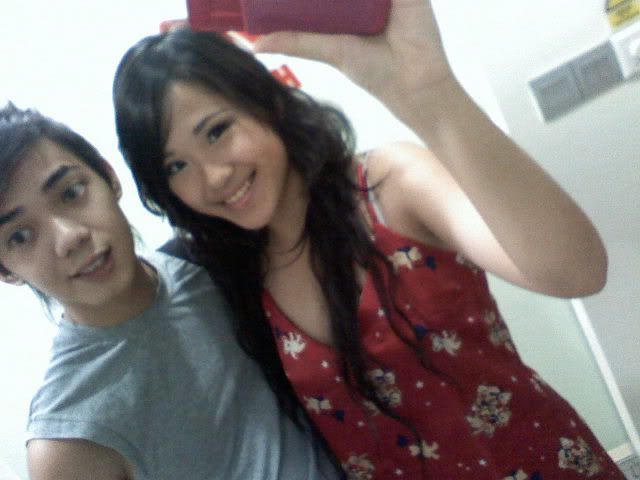 I wore the same red satin teddy nightie as the one in my Chipster post, and James wore a singlet + boxers (seriously! boxers with nothing else, the atrocity)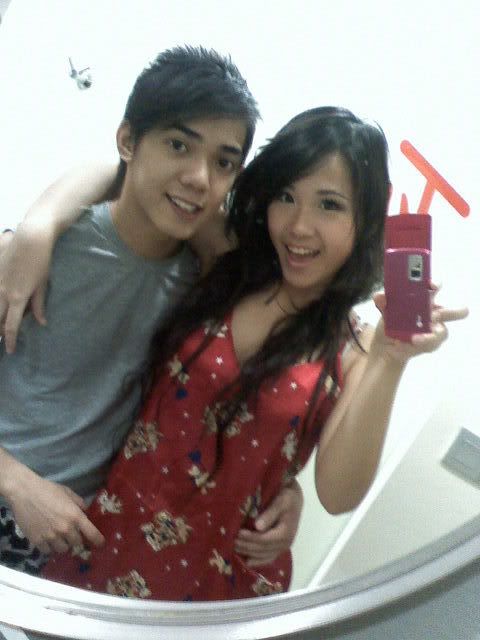 I love you baby!! =)

You make my life so much better.

(yay I'll be seeing him in 1 hour's time, hes coming over to my place to stayover again! he's here staying so often it's almost as if its his 2nd home… it should be anyway)
When we took the lift down to the lobby, people kept giving us weird looks. LOL.
"WTF are these jokers doing walking around in sleepwear?!"
.
.
.
And off we went (in a coach again) to Borneo Baruk Club!
The "funny" bus driver actually stopped for like 20 mins to ask for directions to the club, and it ended up to be only 1 traffic light away -.- wonderful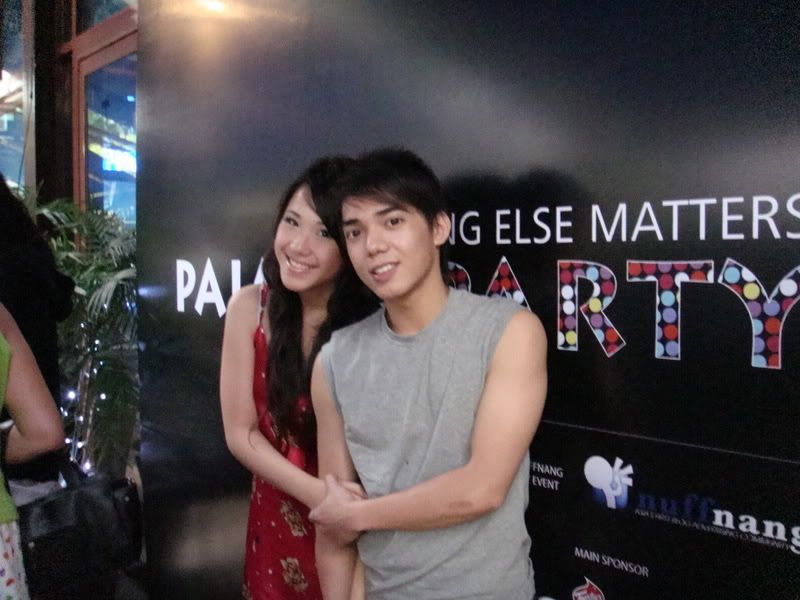 Weeeeee!
See the sign behind?
The Nothing Else Matters
NUFFNANG PAJAMA PARTY!!

Hahahahaa I just can't get enough of saying that. It is sooo cute. Pajama party? Awesome theme!!! Might just use it for my 21st birthday
Then I can use that as an excuse to wear skimpy lacy lingerie and portray myself as a attention-seeking slut like how some of the other girls there did…
.
.
.
Went into the club and started mingling with people
Less than 10 minutes, I retreated to a corner and started attacing the free packs of Chipsters lying around because I was famished. LOL.
I'm not one who loves interaction with strangers. Frankly speaking, I hate to mingle – it's just so damn boring talking to people you're not close with.
I know, I know. Don't mingle how to get close with people right?
Which is exactly why I have a small circle of friends only. Not that I'm unhappy with that anyway. I can't stand superficial friendships – might as well not have them, I don't need the attention.
But I don't know how I got along with SPI so well hehehh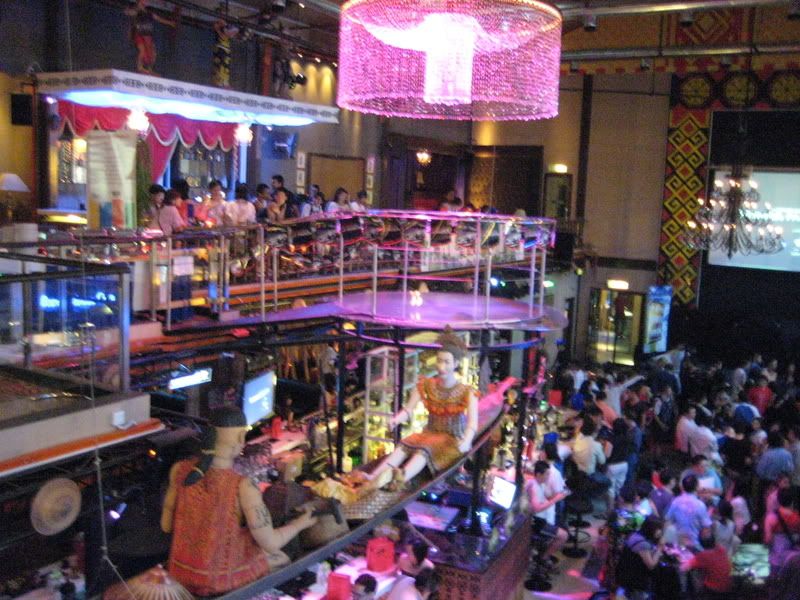 Wasn't long before the club was filled up and the party got going!
So many malaysians were not in their PJs.. -.-""""
Completely defeats the purpose of a PJ party.
The place where I was seated at was directly under the air-con and I was feeling damn poor thing! Cuz I was extremely-fucking-hungry and shivering from the EXTREME cold… (not forgetting thin satin nightie)
So I went to KPO around abit and went upstairs.
.
.
.
Surprise surprise, I found my Singaporean SPI Gang!!!! YEAH.
I totally thought I lost them in the crazy crowd, lol. And me & James found like, the best seats in the house.
Comfortable big squishy sofas with a convenient bird's eye view of what's going on at the stage~
The best part? The buffet table was just next to our seats!! LOL.
We were super kiasu and hovered suspiciously around the table as soon as 7:20pm
(cuz the buffet was gonna start at 7.45)
But the waiters could tell we Singaporeans are very hungry people, so they opened the buffet early for us!! Leaving the poor majority of Malaysians below completely unaware and still very hungry (HAHAHAHA)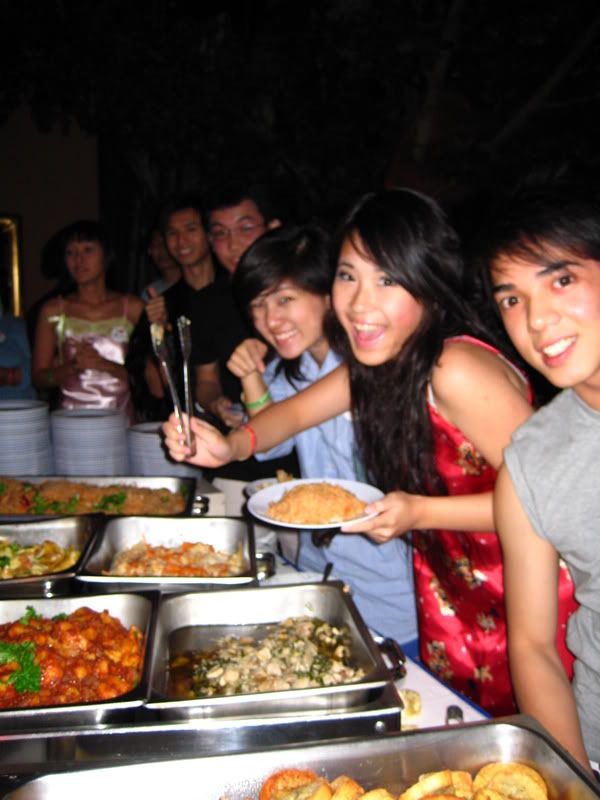 By the time the emcee said, "I bet you all are hungry! Let the eating begin!",
….we were already done with our 1st round of food. LOL.
The waiters were very nice! I love their service. Free flow of beer too, awesome huh? That made James very happy, but I didn't let him have more than 1 glass though. I hate people who drink.
I kept eating and eating and eating!!! LOL.
***Gluttons Alert***
HAHAHAHA
Check out the way me & James are staring at the food with the expression,
"I-am-HUNGRY-and-I-am-going-to-EAT-you-right-NOW!!" on our faces.
Me and Kexin sweetheart!
MORE EVIDENCE OF MY GLUTTONY!!! *points to the plate in my hand*
And more…..

Jayden said this which cracked me up, "Everytime I walked by Jessica, she was always eating something lor."
LOOOOOOOOOOL.
I guess I have to stop eating already. But I cannot help it leh, I get hungry and cravings so easily!
James said that I've grown fatter already =(
You know you gotta stop eating when your own BF tells you you're becoming one fat bitch.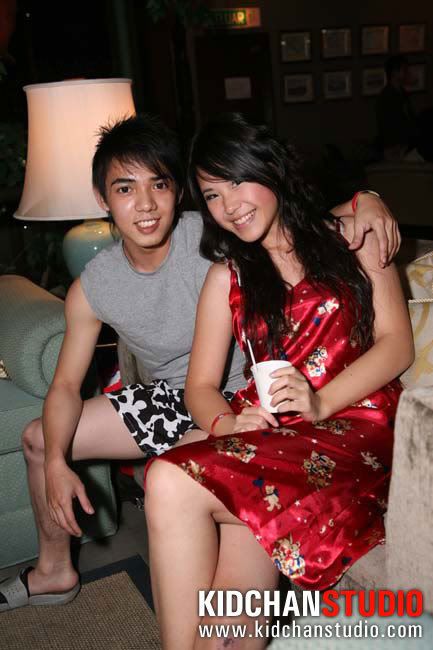 Photographed by the Official Party Photographer who went like, "Sweet couple! Can I take pictures of you?" (shit, I was eating ice cream again lor. see that cup in my hand?!!!!!)
Taken from http://www.kidchanstudio.com/pajamaparty/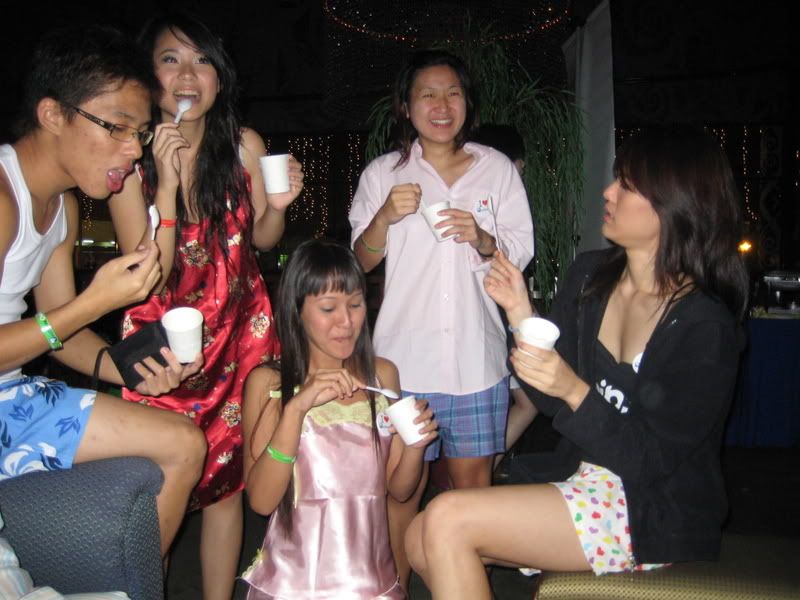 If you thought we're decent people just innocently enjoying ice cream..
.
.
.
.
.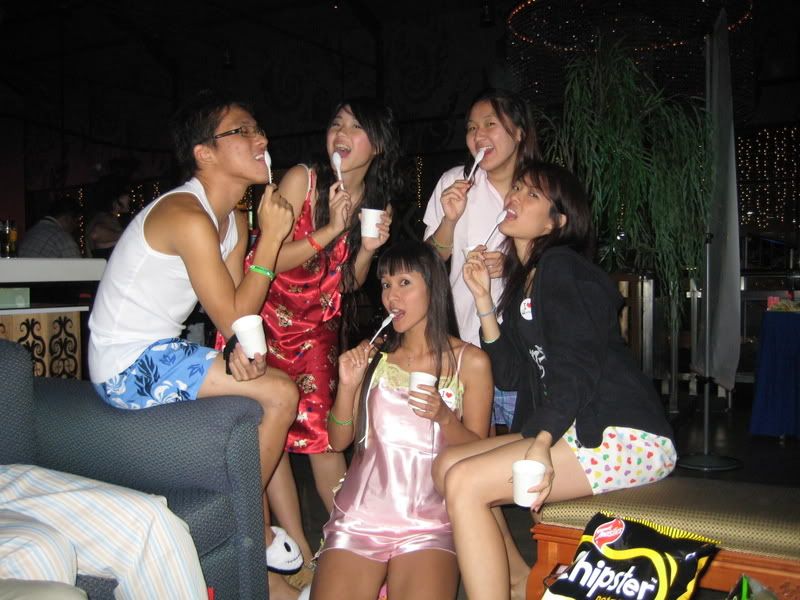 Think again. Bananas in Pajamas are long gone, say hello to the new Sluts in Pajamas!! ("v")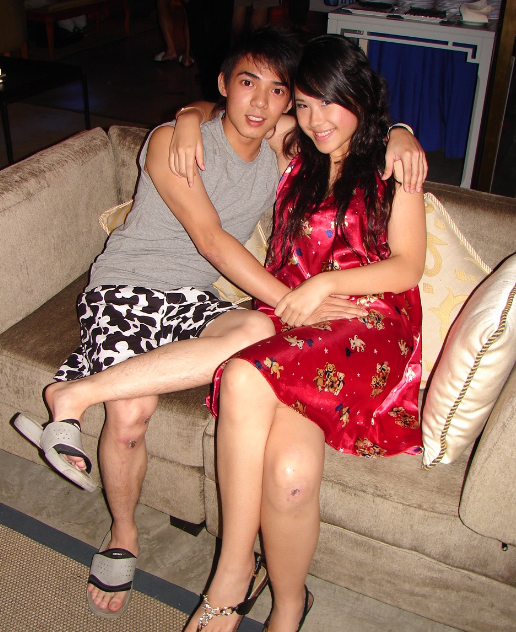 Us in our corner with nobody to disturb us!
…Until some teenage malaysians came along and decided to rudely take our seats without even asking. (we were taking food)
Our belongings were still on the sofa and they just sat down indignantly!! Still got the cheek to stare at us lor..
But I went over and sat on the sofa next to them and stared back hard, so they moved off soon enough =D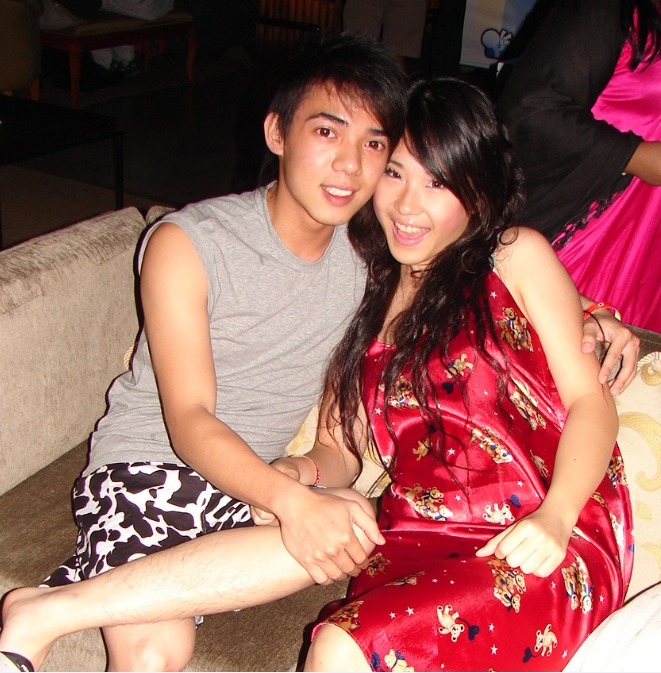 I love this picture!! =)
I'm absolutely into what me & James were wearing. LOL.
And check out Taqinah's hot pink nightie in the background!!! Loooove the colour, I'm gonna hunt for a nightie like that too =D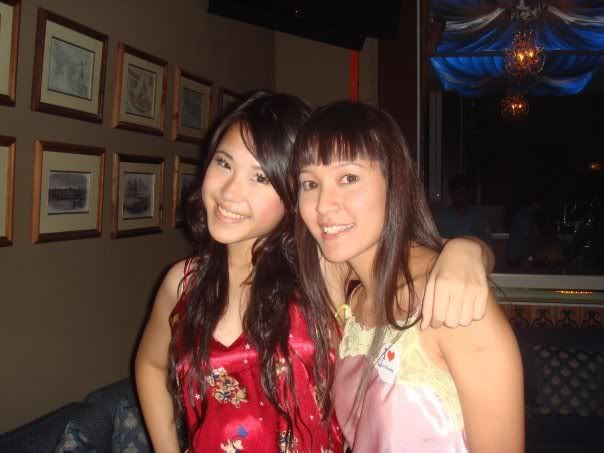 Me and Holly baby xD
She's a secondary school english teacher! Geeeez. I'll bet her male students have all got her crush on her =P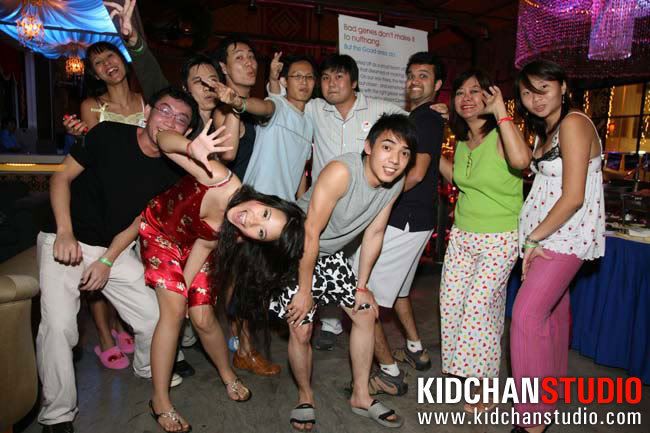 SPI baby!!! I look extremely random here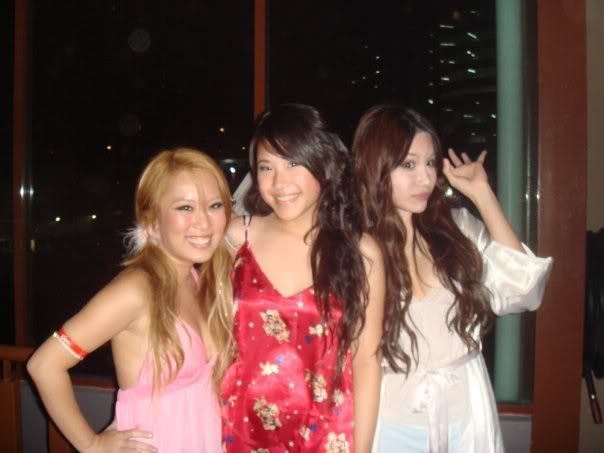 Check out the long haired bloggers! ("v")
After more eating, phototaking, mingling, eating, phototaking…
The Nuffnang Team decided to spice things up with craaaaaaaaaaaazy games!

When Jessica says crazy, she MEANS crazy.
They made these guys do push up with the Nuffies on their back!!! (Nuffies are girls that Nuffnang employed to wear "sexy" roleplay outfits to add to the fun)
See the chinese guy on the left? He's such a poor thing!!!!

He lost to the angmoh wearing red lipstick and the blue bathrobe by quite alot. But it wasn't really fair to him, because the french maid nuffie who was sitting on his back actually put ALL her weight onto his back,
whereas the nurse who was "sitting" on the angmoh's back was merely resting her ass on his back, hardly putting any weight on him at all.
I could see how much pressure was being applied on the chinese guy's back but as the angmoh did his push ups, the nurse on his back automatically lifted herself up to flow with his movement.
I know this because me & James decided to be KPOs and ran to the front of the stage when the games started!! LOL.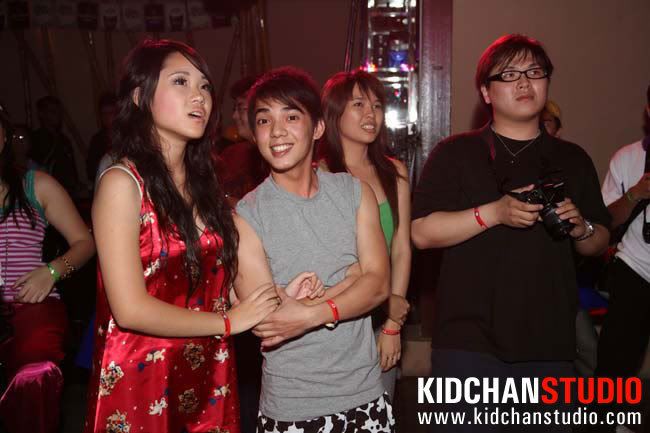 HAHAHAHAHAH!!
Look at me being a bloody KPO, tiptoeing to see better even though I was standing right in front!!!!
I cannot stand the super ugly expression on my face lor! Like, "eh, what's going on? omg????? tell me leh!"
LOL.
I also cannot stand JAMES' kuku face in this picture!!!!!!!!!!!
Why didnt he tell me that the photog was taking photos of us?!
I have alot of other pictures from the trip that I didn't post cuz they were candid. I always look extremely unglamorous and fugly in candids
Sad lor.
They had many other wacky games… Like who could be the first one who is able to remove Ming's socks from his feet?!
They even made the poor fella smell his socks lor!
It was VERY chaotic, VERY crazy and VERY funny~
Too much games and details for me to elaborate fully on
There was this one part where volunteers from the audience were supposed to copy the Malaysian Dreamgirls "model poses" and see how well they could carry it off…
WTFOMGLOL LOOK AT WAYNE!!!!!!!!!!!!
HAHAAHAHAHAHAHAHAAHA
Wooooooooooooooooooooooooooooo, the crowd loved it, you did it way hotter than the malaysian girl!
There was this one game where you had to find matching partner wristbands. Everybody had entrance wristbands on their wrists, and on the wristband is written a certain character's name such as Mickey.
If you're Mickey, you have to find another person whose wristband says Minnie!
Simple as that. So I looked my wristband then looked at James and said, "Hey, I'm Eve. Who are you?"
He stared back at me with a funny expression on his face and said, "I'm Adam."
AWWWWWW…. Talk about a match made in heaven for a couple perfect for each other! HEHEHEHEH.
.
.
.
When the emcee shouted, "now I need the couple….. ADAM AND EVE!!!!!"
Me & James ran like mad to the stage, LOL!
Cuz he said must run then will win ma. So we ran. And the first thing I knew when I reached the stage,
I saw a hand flying towards my face and "PIAK!!!!"
…hit me right on.
Apparently, the flying hand belonged to a man who tried desperately to reach the stage faster than us but left his female partner on the ground so he was disqualified… (not forgetting smacking my face hard in the process)
As quoted by emcee, "how can you leave your partner below and come up yourself?!?"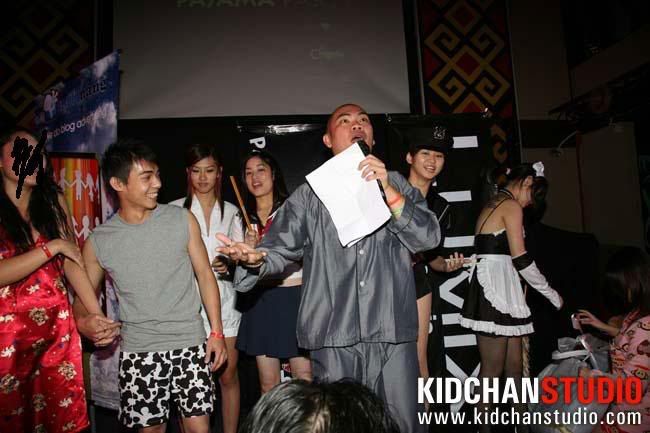 Me & James on stage with the very cute botak emcee.
My boyfriend is damn cute lah, he always looks damn happy in pictures!!!
I wanna cudddllleee him lor.
I censored my face because it was damn ugly (candid) and I was still feeling quick shocked by the rude smack on the face (the tard didn't even apologize!)
After all the games ended, it was the prize giving ceremony thingy~
Which Valerie won the best PJ award!!! You go girl~~ Check out her cape, lol
And her mum was cool enough to sew her 2 chipster pillows that look freakishly like the real thing!
The night passed really fast and before we all knew, it was time to go. Didn't really wanna leave, I was enjoying myself too much!
But we had to go anyway… Soooo…
Here's some pictures taken outside the club: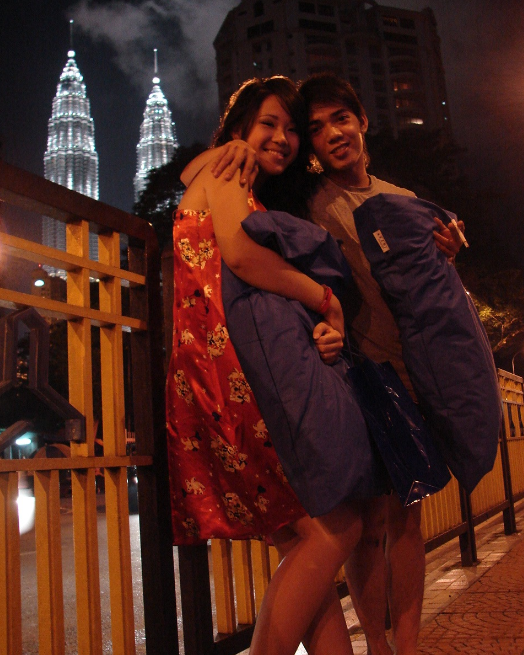 This picture is definitely a keeper!!!
How many people in this world have ever taken a picture with their lover in Kualua Lumpur with the twin towers in the background wearing Pajamas and clutching matching blue pillows that they had just won earlier
- all of this in the middle of the night?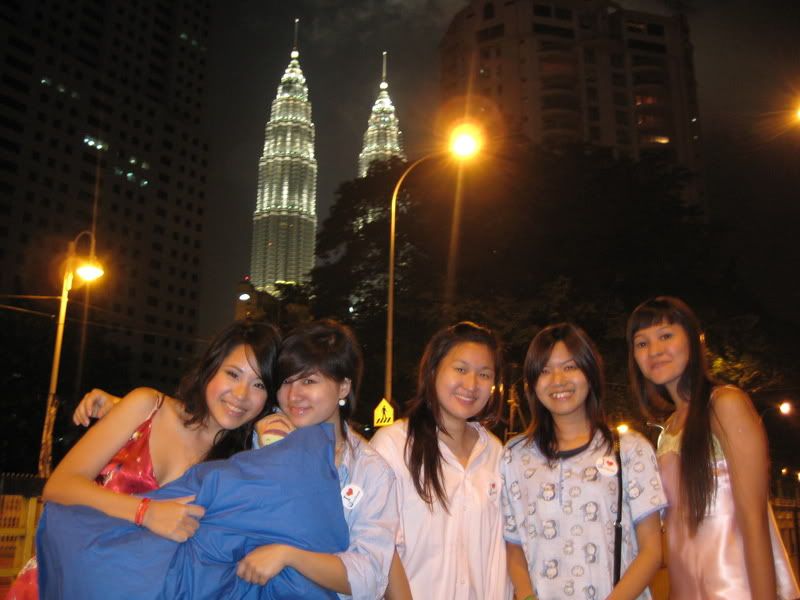 Me & the other lovely babessss.
I bet all the passersby who saw us walking around in a big group must have thought we're a group of insane people, LOL!
I mean, what the hell would you think if you saw a big group of people all dressed up in funky pajamas, wearing bedroom slippers holding soft toys and pillows walking around in the busy heart of KL?!
Must have been a very interesting scene. xP
.
.
.
.
After the party, guess where did we go?
.
.
.
.
.
.
.
.
.
.
.
.
.
.
.
.
Eat. Again.
Apparently they were all hungry (except me cuz I ate so much during the party)
BUT I ATE AGAIN!!!!!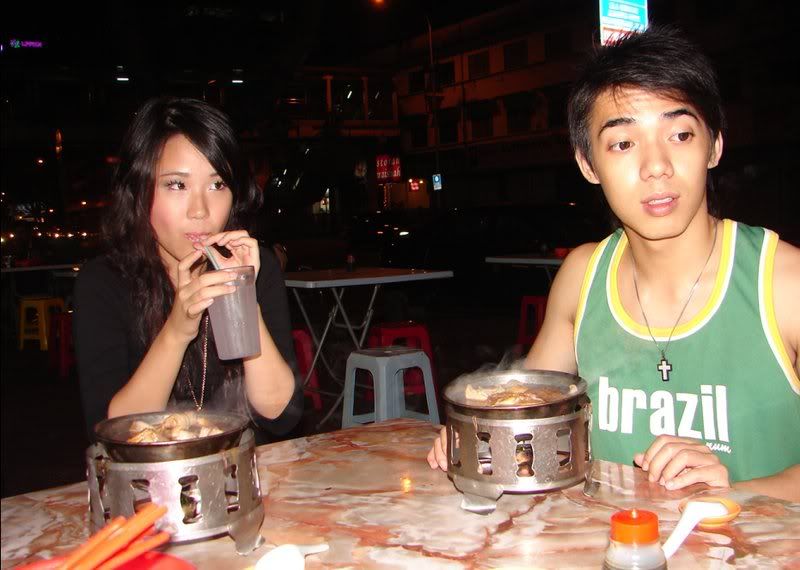 Candid photo – I look awfully thistry. And do I really look this weird when I drink???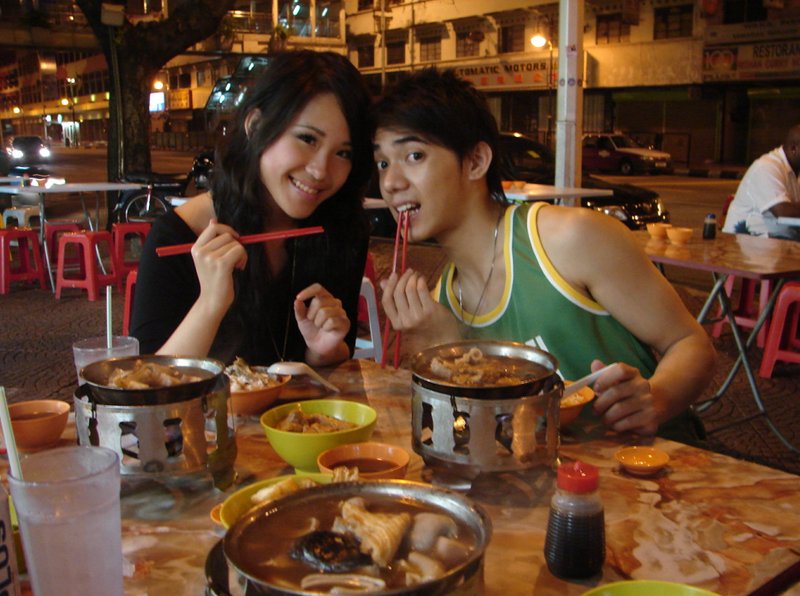 Me & lover! Enjoying Ba Kut Teh, together with Nadia, Nadia's BF, Jayden, and Fabian.
I thought we were going clubbing or something, that's why I wore this V neck short tight black dress..
Ended up eating Ba Kut Teh at some roadside hawker stall -.-"""""
And then it got really late so we went back to the hotel to rest, everyone's had a long long day. (I'm trying to shorten the rest of this post cuz it's getting damn long!)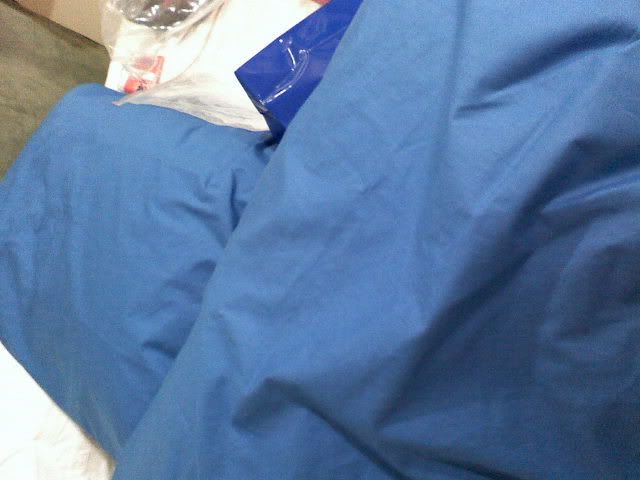 The pillows we won from the matching wristbands game! LOL.
I plan to sew stuff on it / print our pictures on it =D
I was so tired that I just plopped onto the bed immediately after reaching our room…
Not too tired to camwhore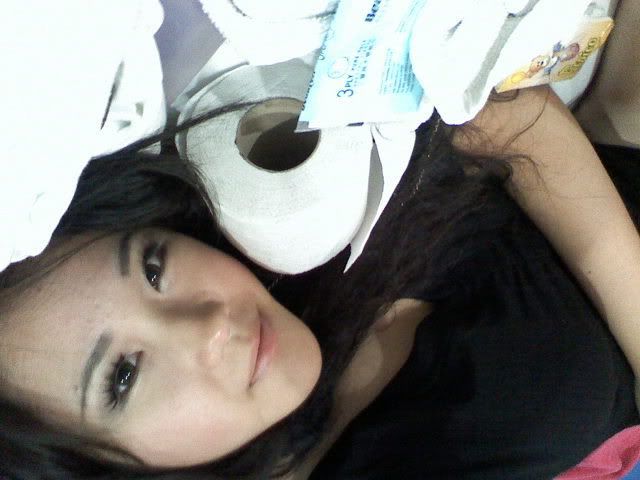 But apparently too tired to notice that I was lying down with a toilet paper roll right next to my face. I look drunk-ish…
Yeah yeah, I'm such a chipster whore now.
Afterall, chipster made this trip and party happen!!
Right after taking the above 2 pictures, I fell asleep straight away (without showering! ehgads) so I dont have anymore things to blog about
Poor James spent a long time cleaning the place up and trying to get me to wake up to bathe.
And that's about my KL trip all summarized in one post!
the next day, we woke up and went to some weird place to have lunch and shopped around abit before going back to Singapore
Didn't include all the chatting and jokes and other stuff cuz either I cant remember or I dont feel like including EVERYTHING on my blog. In other words, I have GAZILLION more photos to post but I am damn lazy lah.
I'm ending this long post right here,
but I just wanna give a shout-out to Nuffnang, Scott, Jairus, Chris, Michael, Kexin, Wayne, Holly, Taqinah & Mum, Valerie & Mum, Nadia & bf, Jayden, Fabian, Botak James, Nik, and the rest of the SPI team for making this trip a bundle of crazy fun.
I met alot of new people & learnt a couple of things.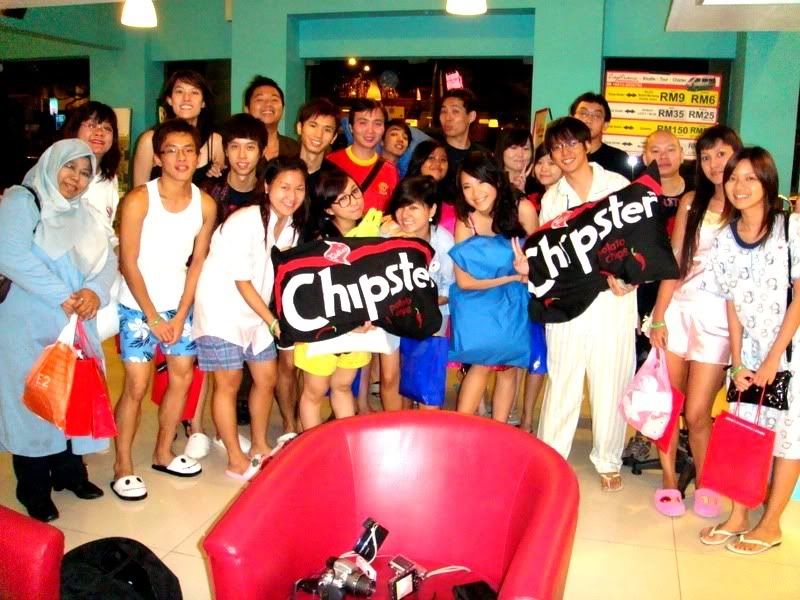 THE HIPPER BUS!!!!
And also, thank you so much to my darling baby lover sweetheart honeypie JAMES!!!!!
He took care of me throughout the whole trip
I feel pampered & loved all because of you.
SPI gang, Meet up the following saturdays ya!!!!
Seee you guys soooooon.
.
.
.
xoxo,
Jess